Post by Peter Lewis on Jul 28, 2010 22:24:42 GMT 12
For our next obscure agplane, we'll go to the Yeoman Cropmaster.
Six of these came to New Zealand in the early to mid-1960s, and largely spent their working lives in the deep south.
"The type was developed by Yeoman Aviation, a company set up by Kingsford Smith Aviation Services Pty. Ltd. (KSA) at Bankstown Airport to engage in agricultural aircraft production. KSA had obtained a number of Wacketts following the type's retirement from Royal Australian Air Force service and had converted four for agricultural use as KS-3 Cropmasters in the second half of the 1950s.
The later YA-1 Cropmaster involved major modifications to the Wackett airframe. The Wackett fuselage structure of steel tube was retained but had a 23 cubic ft. (650 litre) capacity hopper in lieu of the Wackett's rear cockpit and different external panels of metal and fibreglass (the Wackett fuselage was fabric covered); the Wackett's wooden wing was replaced by a new metal wing. The first five aircraft retained the Wackett's wooden tail, but subsequent aircraft had a metal tail that featured a stabilator, a swept-back fin and larger rudder. The Wackett's fixed tailwheel undercarriage was retained. The Warner Scarab radial engine of the Wackett was replaced by a horizontally-opposed engine, the YA-1 250 being fitted with a Lycoming O-540 engine of 250hp driving a Hartzell propeller.
The first Cropmaster took to the air on 15 January 1960. Twenty further aircraft were converted before production ceased in 1966, a victim of the availability of more modern types of agricultural aircraft."
Construction numbers on these aircraft started at 101.
The first Cropmaster 250 to arrive in New Zealand was c/n 108 which had been test flown by Yeoman Aviation Pty. Ltd. as VH-DCB from 28 September 1962. This aircraft was assembled at Invercargill and became ZK-CCP with Farmers Aerial Topdressing Co.Ltd. of Invercargill on 4 October 1962, the same day as it's first local flight.
The aircraft appears to have operated in the Southland area relatively uneventfully until was was damaged beyond repair when it hit a fencepost on t/off at Browns, Southland, 5 Apr1966. Pilot Ian Petit. The registration of ZK-CCP was cancelled 5 June 1966.
ZK-CCP at Invercargill 10 October 1962, soon after assembly and still an object of local interest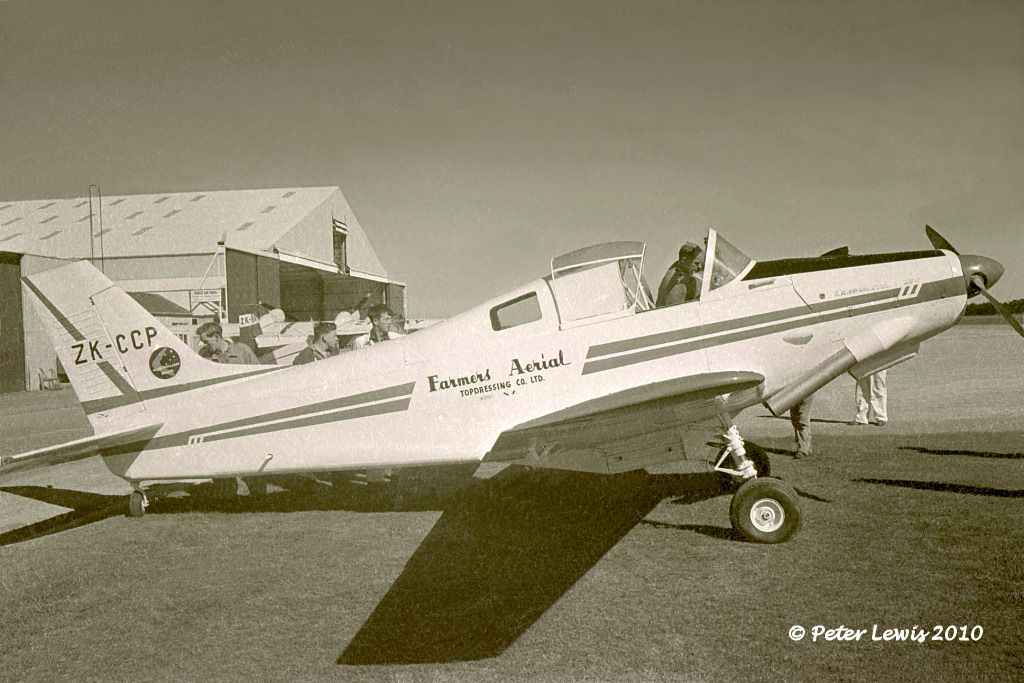 The next Cropmaster 250 to cross the water was c/n 110 which had flown with Yeoman Aviation on test as VH-DEQ from 28 January 1964. This aircraft arrived at Invercargill on 10 February 1964 and became ZK-CDI with Farmers ATD Co. on the 20th.
James Aviation of Hamilton took over the Farmers ATD Company in 1967/68 and as the Cropmaster did not fit within their fleet it was flown to Hamilton early 1968 and sold to I H Hanes, Horotiu as from 27 October 1968.
Hanes converted the Cropmaster to a three-seat configuration in 1969 and ZK-CDI became known as the Yeoman-Hanes 250.
The aircraft was sold to Frank Pike, Murrays Bay, Auckland on 6 November 1989 but was damaged in a nose-over accident in December 1990 and stored at Ardmore for some years.
Eventually the damaged airframe was re-exported back to Australia where it was rebuilt and again became airworthy as VH-FBC with W Burke, Wagga Wagga, NSW as from 5 December 2001.
Cropmaster ZK-CDI of Farmers ATD Co. fitted with spray equipment working in Southland, mid 1960s
ZK-CDI at James Aviation, Rukuhia, 16 March 1968 - white with red and black trim
As the Yeoman-Hanes 250, Pukekohe 7 January 1977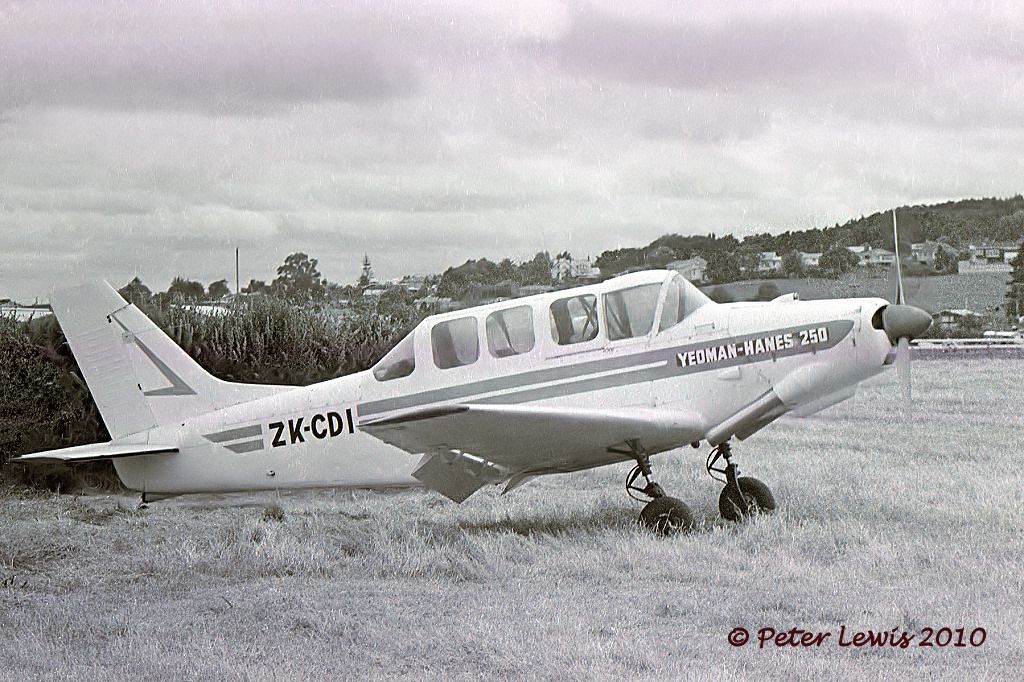 and a colour shot taken at Hamilton 12 February 1979 by dakman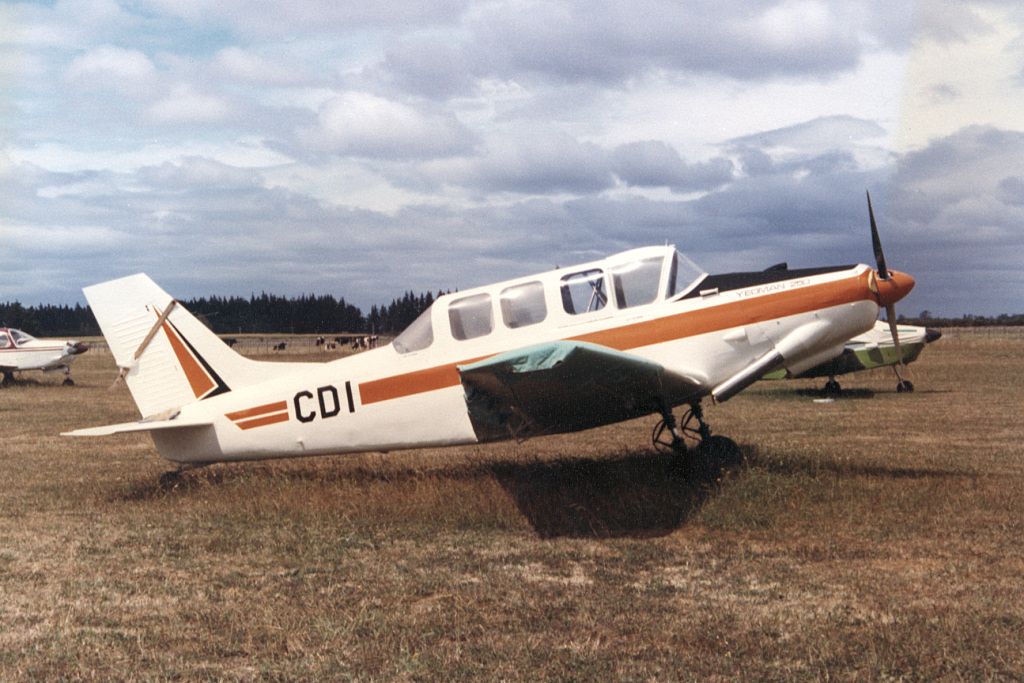 The YA-1 250R was developed, with a Continental IO-470 also developing 250hp driving a Hartzell or McCauley propeller.
The first Cropmaster 250R Srs 2 to arrive in NZ was c/n 117, which had been test flown as VH-TPH with Yeoman Aircraft Pty Ltd.
This aircraft was also assembled at Invercargill, with its first flight there taking place on the 8th April 1965 prior to its registration as ZK-CLW to Southern Aviation Ltd. of Gore on the 14th.
This Cropmaster later moved north to Wanganui Aero Work Ltd. as from 29 May 1973 and carried out aerial spraying work for that company.
ZK-CLW carried out it's last flight on the 5th July 1974, and ownership was transferred firstly to Aviation Glass Reinforced Plastics Ltd., Ardmore on 6 September 1978 and then to I H Hanes, Hamilton on 16 November 1984 as a spares source for ZK-CDI. The registration was eventually cancelled on 17 December 1990 and the last I heard was of a transfer to Lindsay A McNicol of Oamaru for a rebuild at Thames.
Under test as VH-TPH with Yeoman presumably at Bankstown early 1965, photo credit dakman
ZK-CLW as a sprayer while based at Wanganui September 1973 photo by dakman, note no company titles are shown
ZK-CLW in a sad state at Ardmore 6 December 1975 - white with black and orange trim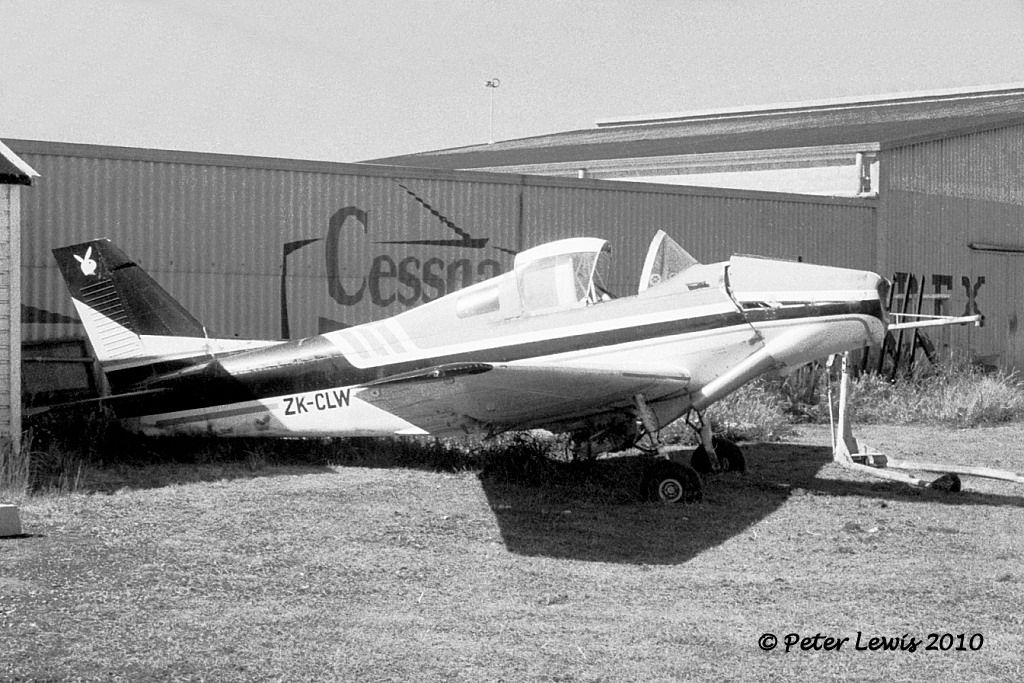 more to follow . . .