Post by kiwithrottlejockey on Aug 6, 2012 17:48:22 GMT 12
Plane has daredevil pastBy JAMES HOLLINGS - Wairarapa Times-Age | Monday, August 06, 2012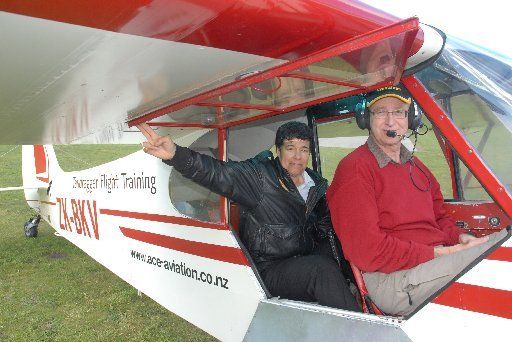 HISTORY MAKER: Kerry Conner, left, and John Bushell in the Piper Cub BKV, the first
aeroplane to fly under the Auckland Harbour Bridge. — Photo: JAMES HOLLINGS.I
T'S one of the smallest planes in New Zealand, but it's got one of the biggest stories to tell.
This Piper Cub, based at Masterton's Hood Aerodrome, was the first plane to fly under the Auckland Harbour Bridge.
The Cub, codenamed BKV, is owned by John Bushell, of Greytown, and leased to local pilot training company Ace Aviation.
On June 02, 1959, during the climax of the opening ceremony for the bridge, Auckland amateur daredevil Eric Barfoot flew it under the centre span three times while the bridge was packed with people and vehicles.
Barfoot told reporters he was inspired by the feats of "Mad Mac" MacGregor, a former fighter pilot who flew under the Waikato Rail Bridge.
Aviation officials were not amused and Barfoot was prosecuted for flying below 500 feet, convicted and fined £50.
The Auckland Aero Club, which owned the plane, fined him a further £50 and suspended his membership for 10 years.
Ace Aviation chief executive and chief flying instructor Kerry Conner said few people knew of the plane's unusual past, but it was a drawcard for those that did.
"It's got a name with it. There's a lot of people who come who want to fly on that particular Cub because they remember it and learnt on it."
The Cub was still used regularly for pilot training, especially "tail-dragger" training, as the art of flying rear-wheeled aircraft is known.
"That's what we specialise in [tail-dragger training]. We get a lot of people who come just for that. Most of our business is people who have never flown before. They learn how to fly. This is back-to-basics, looking-out-the-window seat-of-your-pants flying."
"For those that want to go into top-dressing, it's quite impressive to have tail-dragger experience."
She said despite being 60 years old, it was still a good training aircraft.
"It's pretty easy to fly. It's nice and slow, and pretty forgiving."
Mr Bushell said when he bought the Cub, he knew it had a history, but didn't know it had flown under the bridge.
"I do appreciate that it's a piece of aviation history in New Zealand."
He and his wife Lynn bought it mainly to lease to Mrs Conner, because they wanted to keep rear-wheel training going in the region.
"Kerry and I believe you have to learn the basics."
"It's very gentle. They are fun to fly. If you can fly straight and level on this, just by looking out the window, [then] by the time you get into instrument flying, when things go wrong you can get back to basics."
Mr Bushell is also a licensed aircraft engineer, and does all the maintenance on the Cub.
"It keeps me in practice and up to date with the day-to-day realities of it."
He said there was one piece of maintenance he was thinking of doing.
That was to record the Cub's feats in the traditional way, by painting a silhouette outline of the Auckland Harbour Bridge on the fuselage.
www.times-age.co.nz/news/plane-has-daredevil-past/1493425/