Post by kiwithrottlejockey on Apr 9, 2010 19:23:10 GMT 12
Wahine Day rememberedThe Wellingtonian | 5:00AM - Thursday, 08 April 2010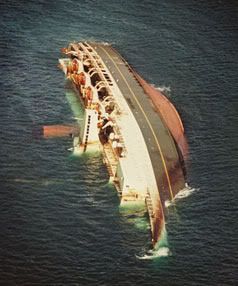 SURVIVORS (left): Two Wahine passengers happy to make landfall at Pencarrow.

DISASTER (right): The abandoned Wahine after it had foundered.T
o commemorate the 42nd anniversary of the sinking of the
Wahine
on Saturday, the Museum of Wellington City and Sea will be hosting a day of events.
On April 10, 1968, the interisland ferry sailed into a savage storm and sank at the entrance to Wellington Harbour. Fifty-one people died on the day and a further two people died from injuries sustained during the sinking.
More than 40 years on this is still one of the most significant events in Wellington's recent history.
The museum's Wellington director, Brett Mason, said being the home of the
Wahine
story is important to the museum.
"We take our responsibility for telling the story of this disaster and a place to remember it as a vital part of our role as Wellington's city museum."
On Saturday, the museum is the departure point for two buses provided by Hutt City Council, leaving at 9.30am for the public opening of the new Wahine mast memorial at Korohiwa Bay, Eastbourne.
There will be speeches by Ken Scadden, maritime historian, and Frank Hitchens, a
Wahine
crew member.
Buses will return to the museum at 12.30pm and while there is no charge for this service, there is a first in-first reserved policy. Bookings are essential and can be made by contacting the museum.
The award-winning documentary,
The Wahine Disaster
, by Sharon Barbour, will screen in the museum's historic boardroom on the hour from 11am, with the last screening at 4pm.
This feature-length documentary details the tragic events of April 10, 1968, and includes moving accounts from both survivors and their rescuers, some of whom had never been interviewed before.
It also features animation which illustrates, for the first time, how the Wahine came to be one of New Zealand's worst sea tragedies.
The museum will also showcase a survivor art show in its new gallery space.
This features works by survivors Kay McCormick and David Hick, photographs featuring Shirley Hick by Helen Mitchell and a painting by TW Parata, a police officer who was on board that day.
The original
Wahine
bell, located in the museum's permanent
Wahine
exhibition space, will be rung every half-hour from 10am till 5pm, marking the passage of time at sea.
www.stuff.co.nz/dominion-post/local/the-wellingtonian/3555059/Wahine-Day-remembered