Post by kiwithrottlejockey on Jul 12, 2010 13:39:05 GMT 12
Eric Heath was the Dominion newspaper's daily cartoonist for many years, including right through the Robert Muldoon era of NZ politics. He is also a returned servicemen who served with the RNZAF in the Solomon Islands servicing the Catalina flying-boats.

The following article appeared in the Jobs section of The Dominion Post newspaper last week....
Eric Heath: Drawn to artistic endeavoursBy JILL WILD - The Dominion Post | 11:44AM - Friday, 09 July 2010
FULL STEAM AHEAD: Cartoonist Eric Heath
with one of his steam locomotive models.
— Photo: JOHN NICHOLSON.E
RIC HEATH has been making much of New Zealand chuckle through his cartoons for over three decades but on reflection he isn't really quite sure how he got started. As an octogenarian and in retirement he still draws and if asked to advise someone espousing to be a cartoonist, is quite definite.
"You can't be taught cartooning so forget about going to any art school that says it will teach you how to draw cartoons. You can be taught to draw, certainly, but you can't be taught to think and cartoon art is about thinking. I wouldn't touch a school of cartooning with a bargepole."
Defining words from one of the country's fathers of cartoon art. Heath's first cartoon was published in 1965 and for the next 30 years he produced five and at times six cartoons a week.
"People don't realise how much work goes into a daily cartoon, it can take hours of work and thought, it just depends on the day and what is happening."
While Heath was tasked with drawing
The Dominion
cartoon every working day of the week, his routine remained completely regular and predictable. He would wake to listen to the radio at 6.30am, immediately briefing himself on the day's headline news. After breakfast he would read the newspaper and then consider a topic worthy of a cartoon. Ideas generally came easily, he isn't certain just how the thought pattern flowed, but it did flow to meet every deadline.
"In all that time I never missed a deadline and when you think of the number of deadlines I had to meet over those years, that isn't bad, is it?"
And for much of his time when the five- day-a-week
Dominion
commitment was "put to bed" as they say in newspapers,
The Sunday Times
(now
The Sunday Star- Times
) commitment was waiting.
"It was fun times though. My best mate Neville Lodge did the cartoons for
The Evening Post
and while we never shared ideas we did a lot together."
Heath's daughter Maude Heath, herself an artist, recalls going on holiday with the Lodge family. She says each cartoonist would often play practical jokes on the other, an extension of the relationship they had in their workplace.
On reflection Heath says there was little in his growing up or family history that is attributable to his career choice and artistic ability.
"I went to eight schools around Wellington, if my father found a house down the road that was a cheaper rent he would just move us all down the road, that was the sort of lifestyle I had growing up and, of course, as we moved I changed schools. It was actually my mother who made me leave school when I was about 14 and sent me to
The Evening Post
to work in the library."
It was an experience that ultimately had a big influence on the young Eric. At 17, Heath volunteered for the airforce and requested an overseas posting. His dreams were delivered when he was posted to the Solomon Islands tasked with looking after generators in the flying boat squadron. It was where he remained until the end of the war but ironically it was also where his art career was launched.
"I found a book and it had something about an art school and art materials, so I sent off some money and got back a box of charcoals. I started to draw shells, still life that sort of thing. Then there was a competition so I sent off a drawing."
Strangely this fledging art interest was gathering momentum while Heath was among Kiwi troops and a huge American contingent fighting the final stages of World War II on remote Florida Island in the Solomon Islands.
"Because there were Americans, the mail was really good, if you sent things away they always got there, especially to America."
In the mess one day he happened to pick up a Washington School of Art magazine and realised the front cover was the picture he had drawn.
"I thought I was made, I thought I was going to be a big artist, you know 'come in Miss Jones, take notes please', as big as that."
On returning to New Zealand at the end of the war Heath's enthusiasm and self belief in his artistic ability was somewhat dented when he took a bundle of drawings into an advertising agency with a view to securing some work only to be told "the drawings of hands are hopeless, sorry, you'll never be an artist, I'd suggest you take up something else".
It was a knock that was never going to send young Heath flying. Instead he returned to the safety of
The Evening Post
and started work as a photo engraver. But with art still in mind he grabbed the chance to work at Milsom Studios, an advertising agency, where he learnt the basics of hand lettering.
"Drawing one word could take a whole morning, everything had to be so precise, it was a good grounding."
By 28 Heath had sufficient expertise to go it alone and began freelancing. Work ranged from record covers to book covers, hoarding signs to advertising display art. But it was a mate who lived round the road that persuaded him to start doing a few illustrations for
The Dominion
along with all his other contracts.
"I started just doing small illustrations, not cartoons, and then they said 'C'mon Heath we'd like you to do cartoons' and I said 'no way'. Six months later they approached me again, I gave in and said I would try and that's when it all began."
"If I got an idea I would scribble out something, go and see the editor and make sure it fitted with their policy and then draw it up."
"Political cartoons were always the hardest until I got into the know a bit. The standard man-in-the-street, beer-prices-type cartoon was easy."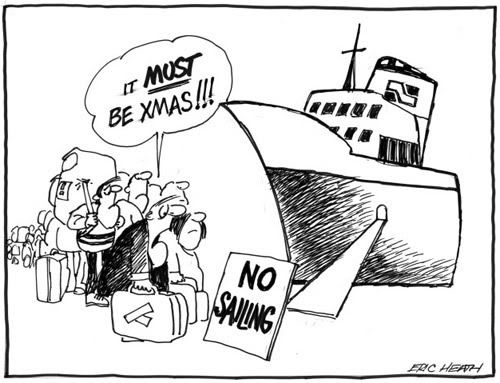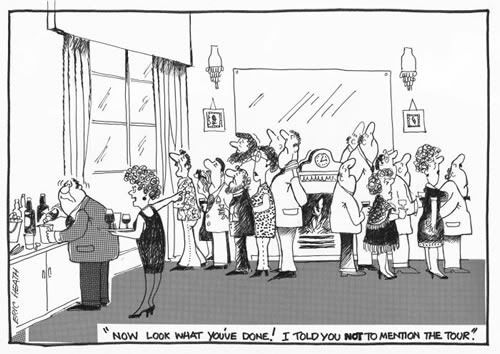 Touch-ups or second and third attempts at a cartoon were not for Heath, each cartoon was drawn quickly prefaced only by much thought. And while the public face of the man is his cartoon art, less known is his enormous research and dedication to the drawing of some of New Zealand's iconic machines and fish.
He illustrated two volumes of New Zealand trains —
Classic Steam Locomotives and Classic Railcars
, and
Electric and Diesel Locomotives
. It was a huge effort involving travel throughout the country, visiting rail museums, photographing and sketching to then return home to spend hundreds of hours painstakingly drawing each illustration bolt and nut perfect.
He also illustrated the book
Shipwrecks around New Zealand
and his little-known illustrations of New Zealand fish are being reproduced and for sale for the first time. Aucklander Keith Cagney has digitised Heath's fish art and describes the illustrations as "exquisite watercolour works" that every New Zealander should own.
After a quadruple bypass last year Heath has slowed from his usual fast pace, but daughter Maude keeps encouraging him to head to his studio, where his latest works are "cog art" mixing his wickedly dry cartoon humour with his artistic talent all started nearly seven decades ago in a remote island in the Pacific.
Heath's latest cog art can be seen at Artel Gallery, Lindale tourist complex, Paraparaumu.
• For more information on Heath's fish art go to:
FishArt.co.nz
.
www.stuff.co.nz/dominion-post/job-market/3891689/Drawn-to-artistic-endeavours/