Post by Peter Lewis on Aug 18, 2007 14:03:39 GMT 12
There have been a number of posts in other threads referring to the Bennett/Waitomo Airtruck, so I have dug out some photos of these and we can start a new thread. If anyone can add to or correct any details here, feel free to do so.
The Bennett Airtruck was designed as a Tiger Moth replacement foragricultural work. The proposal matured around the same time as other such projects - the Fu24, Agricola, Andrews A.1 and EP9.
The designer was Luigi Pellarini, who came up with pilot position above the engine/hopper module and the twin-boom concept as part of the design brief to make the aircraft safe in a crash and easy to load.
Given the shortage of imported raw materials and engines, the prototype was assembled at Te Kuiti airfield mainly from surplus Harvard components by Bennett Aviation with operational input from Northern Air Services (an agricultural operator based at the field at that time).
"It featured all aluminium structure, a high wing monoplane with a steel stub wing and V lift struts, steerable tricycle undercarriage, an extremely stubby pod fuselage, the cockpit (made from shortened Harvard glazing) being mounted directly over the radial engine, providing excellent forward view and very high drag, beneath it was room for a superphosphate hopper or up to 5 people in a cabin."
The prototype was registered ZK-BPV (c/n BA-001), and the first flight was made at Te Kuiti on 28Apr60 (some sources quote a first flight in August 1960). The aircraft was at that time registered to Bennett Aviation, but soon after the company was restructured and became Waitomo Aircraft Ltd. After initial tests, BPV was hired to Northern Aviation for operational experience, and crashed at Ngapaenga 8Oct63. The pilot John Worthington survived, apparently owing his life to the built-in safety features of this aircraft.
Scan originally posted in another thread by Dave, showing the derelict Harvards at Te Kuiti, and both Airtrucks:
and ZK-BPV after completion:
Given the operational success of this first aircraft, the company proceeded with the construction of a second machine, and this one first flew at Te Kuiti on 9 March 1965 as ZK-CKE (c/n 002) registered to Waitomo Aviation. The registered ownership soon after changed to Northern Air Services for the trial flights, and they may have used the aircraft operationally.
In late February 1967, Barr Brothers Ltd. of Auckland hired the Airtruck, and used it operationally out of their Dargaville base. It did not last long, as it crashed in a failed t/off Tangiwha, Maungakaramea, 1Mar67. Pilot Dick Tatham was killed in the event.
It was the end of the New Zealand based project. Pellerini had emigrated to Australia, and redesigned the concept as the PL-12 Airtruk (the name Airtruck was still the intellectual property of the New Zealand project) and that machine went into production there by Transavia.
ZK-CKE attended an airshow held at Ardmore on the 28th January 1966, and the following photographs were taken at that time. The aircraft was painted white with red trim and the word AIRTRUCK in black: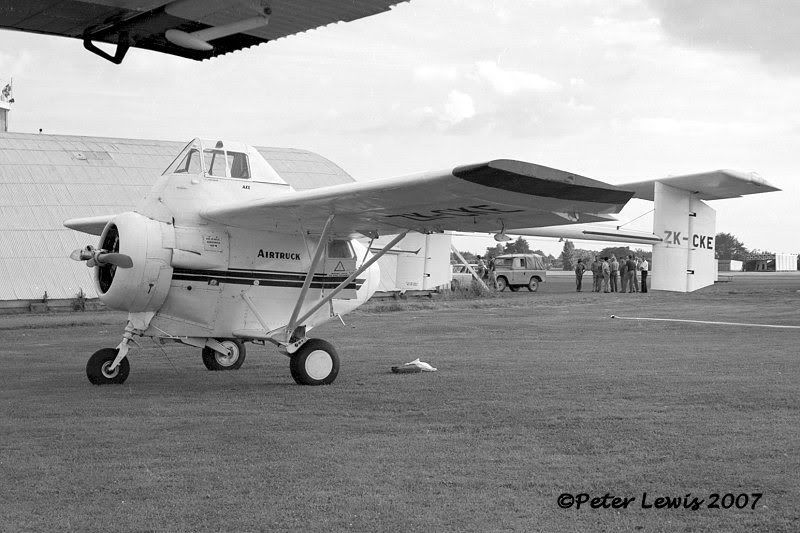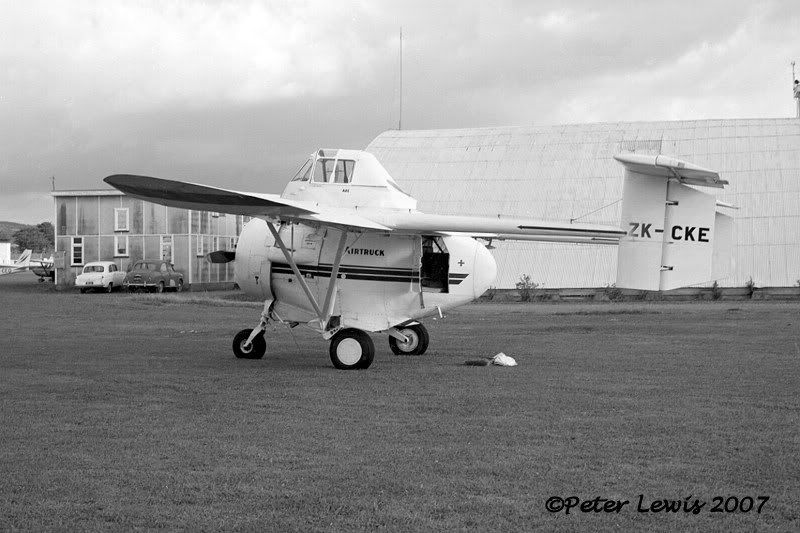 and yes the thing could actually fly: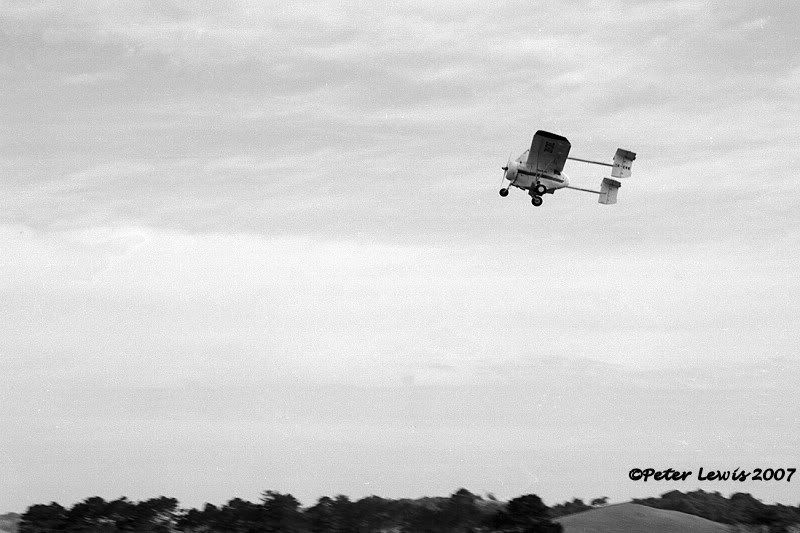 Colin has posted a colour photo of CKE at A.net
www.airliners.net/open.file/0277578/L/
and another one showing CKE working on a farm strip from Doug Sklenars. The pilot on this occasion is noted as Don Erceg, so this would have been prior to its Barr Brothers days:
www.kiwibeavers.com/images/PL-11_Airtruck_CKE.JPG
Again, anyone who can add to this information here is most welcome.