Post by kiwithrottlejockey on Feb 8, 2011 16:39:30 GMT 12
Flight of the Tiger MothBy KATHERINE ROBINSON - The Dominion Post | 3:45PM - Thursday, 20 January 2011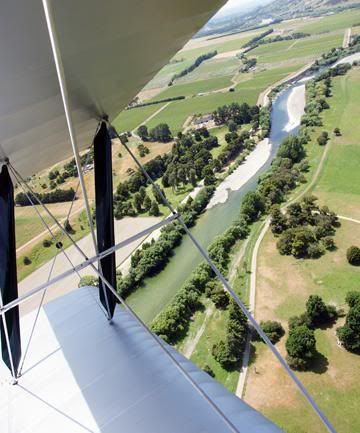 AIR AND GRACES: Open-cockpit thrills over the Wairarapa's
Ruamahana River. — KATHERINE ROBINSON/The Dominion Post.I
BLAME my diary, which comes with cheery motivational messages for every week of the year. The day I was asked if I'd like to go for a joyride in a Tiger Moth I read, "Be brave. There is no substitute for experience." I remember this much later, bouncing 1500 feet up above the Wairarapa Plains in a plane that feels as a light as a butterfly.
Now, my experience of flight to date has usually involved at least two hefty jet engines, a cabin crew, and an aisle wide enough to hold the trolley load of drinks that will anaesthetise me to the fact that I am thousands of feet up in the air in a metal tube.
Flying a Tiger Moth is quite different. For a start it's an open-canopied plane. Not a strong selling point for some, but a test of my theory that it's not heights that make me jittery — more a fear of confined spaces.
And it's romantic. The plane's double-winged silhouette recalls the days when planes were made of cloth and tied together with string. The first De Havilland Tiger Moth flew in 1931 and 10 to 20 years later it was still the primary training plane for air forces around the world.
Hollywood loves the Tiger Moth — Meryl Streep leapt into one in Out of Africa to chase flamingos over Lake Tanganyika, and in The English Patient Ralph Fiennes pilots a Tiger Moth over the sinuous North African dunes. (I ignored comments from those who reminded me that both the planes crashed.)
"So, are small planes dangerous?" I ask John Bargh, chief pilot of the New Zealand Sport and Vintage Aviation Society's aerial acrobatic team at Masterton's Hood Aerodrome.
He chooses his words judiciously. "Well, a lot of small planes are flown by non-commercial pilots and I think sometimes they push it a little," he says. "You have to be careful with the weather here."
John made his first flight as a teenager in 1969 and has stacked up at least 20,000 hours in the air as a topdressing pilot. Flying is how he earns his living and it's also what he does for fun. He practises loop-de-loops and barrel rolls in the Tiger Moth, and once took it on an all-day flight to Wanaka for an airshow. He is my pilot for the next hour or so.
We are both clad in the full Biggles kit — big leather flying jacket, bathing cap-like helmets with goggles and huge ear muffs. There's no mirror, but I'm pretty sure I do not look like Meryl Streep.
But the plane, ZK-BLK, is the real thing. Built at the Rongotai works in 1943 to train Royal New Zealand Air Force pilots bound for combat, it has less instrumentation than my car and is considerably narrower.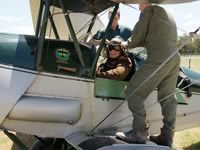 ANXIOUS AVIATRIX: Katherine Robinson
prepares for take-off in a vintage Tiger Moth.
I sit in the front, right behind the propeller — a little unnerving, as it makes me wonder if I am expected to drive this thing. Actually, I am just ballast and tightly strapped to the seat. According to John, it's quite hard to fall out, as G-forces would push me inside, even if the plane flew upside down. If I feel airsick, John tells me, I should just pull down one of the sides and go to it over the wing.
The Tiger Moth has a reputation as a fearless yet forgiving plane that yearns to be in the air. It's true — the plane trundles briefly along the grass, not so much taking off as allowing the wind to lift it. Once airborne, it becomes clear how sensitive the plane is to any breeze. A light to moderate wind at ground level translates to a lumpy ride from even 500 feet up. The plane twitches with every gust.
After one rollercoaster-like lurch, I take a few panicky photos that capture my own white knuckles.
Gradually, I calm down — I tell myself that I have been on bumpier roads. If anything, it reminds me of sailing with the same exhilarating sense of being part of the elements.
The engine is a comforting hum, turning into a growl when the little plane beats against a headwind. A wind shield above the cockpit protects me, but if I make any movement away from it, the wind roars in my face. I have to grip my camera as I take shots of the Wairarapa Plains stretching down to Palliser Bay and north to Mount Bruce.
"It's really best early in the morning," says John. "The air is as smooth as silk."
The plane's normal cruising speed is a gentlemanly 70mph (113km/h), but in aerial acrobatics like the loop-de-loop, John points the plane straight at the earth and rockets down to get the speed up to 120mph. This gives enough momentum for him to level out, flip the plane and swoop down. It has been likened to getting a Morris Minor around a racetrack.
We tootle about for a bit above the tangle of the Ruamahunga River, tidy lines of vineyards and a surprising number of backyard swimming pools. Then we swoop low into the afternoon sun towards the Tararuas.
"I'll bank so you can get a better shot," crackles John over the microphone. The wing dips sharply and the horizon isn't in the right place any more.
We spiral, banking tightly around. An old farmhouse, swimming pool and vegetable garden appear on the wing tip. It should be scary, but I'm too busy taking in the view to worry.
www.stuff.co.nz/travel/4556762/Flight-of-the-Tiger-Moth