Post by kiwithrottlejockey on Dec 27, 2013 16:49:18 GMT 12
From the Los Angeles Times....
NASA's Deep Space Network celebrates its 50th anniversaryBy MONTE MORIN | 2:04PM PST - Tuesday, December 24, 2013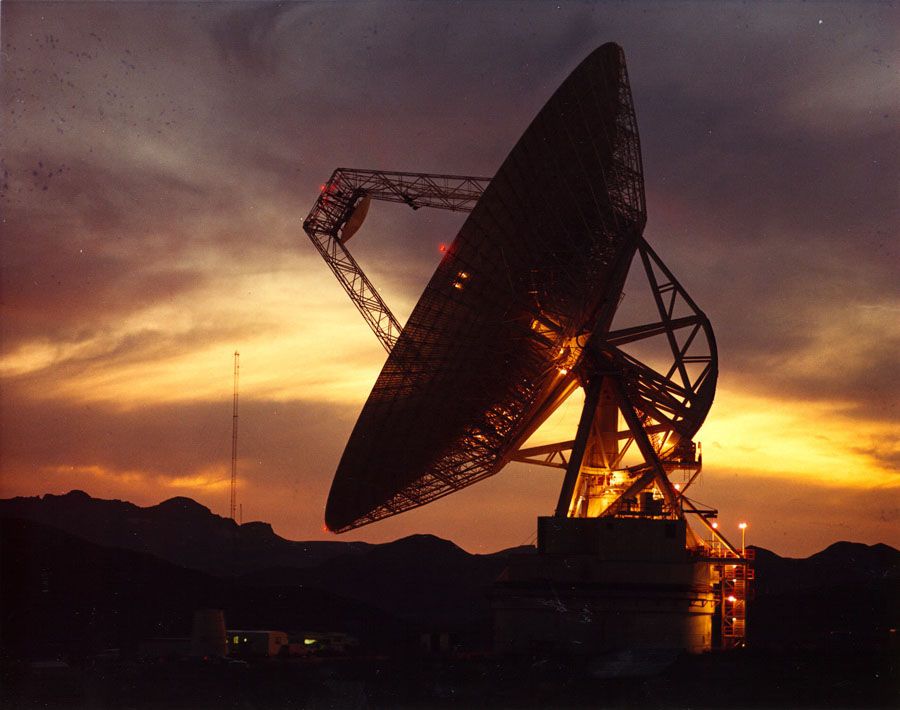 The Deep Space Communications Complex in California's Mojave Desert is one of three such sites in NASA's Deep Space Network. The DSN is
celebrating its 50th anniversary. — Photo: NASA.I
T'S called the Deep Space Network, and for the last 50 years it's provided two-way communications between earthbound mission controllers and most every spacecraft that's traveled to the moon or beyond.
Its motto: "Don't leave Earth without us."
On Tuesday the DSN celebrated its 50th anniversary. In that time, it's relayed Neil Armstrong's historic message of "one small step," images from various Mars rovers, and the exceedingly faint signals of
Voyager 1
as it entered interstellar space.
"Today, the DSN supports a fleet of more than 30 U.S. and international robotic space missions," project manager Al Bhanji said in a statement. "Without the DSN, we would never have been able to undertake voyages to Mercury and Venus, visit asteroids and comets; we'd never have seen the stunning images of robots on Mars, or close-up views of the majestic rings of Saturn."
The network is managed by NASA's Jet Propulsion Laboratory in La Canada Flintridge and comprises three antenna complexes spread around the globe at roughly 120-degree intervals. By spreading them around the planet, the network is able to maintain constant communications with distant spacecraft, even as Earth rotates.
The network's precursor, the Deep Space Instrumentation Facility, was created by the Army in the 1950s, but was later transferred to NASA. On December 24th, 1963, NASA officially organized it into the Deep Space Network.
Currently, the DSN's three complexes are in Goldstone, California, in the Mojave Desert; in Canberra, Australia; and in Madrid.
Each complex has an enormous 230-foot-diameter dish antenna — capable of tracking spacecraft more than 10 billion miles from Earth — and an array of smaller antennas.
The smaller antennas can be used to track Earth-orbiting satellites, or to assist in capturing extremely faint signals.
Communications from spacecraft like
Voyager
can be very difficult to hear. Typically, a spacecraft signal is limited to 20 watts — about the same power required to light a refrigerator bulb. The small signaling strength results from the size and weight restrictions placed on spacecraft so they can be launched into space.
The job of capturing and making sense of those signals is even harder considering that many objects in the universe emit their own radio noise.
Currently the network is tracking NASA's Stereo A and Global Geospace Science WIND satellites; the Messenger spacecraft at Mercury; the Mars Reconnaissance Orbiter; Cassini; the LADEE lunar probe; and the Chandra X-ray telescope.
The DSN is also linking Earth to the Indian Space Agency's Mars Orbiter Mission; the European Space Agency's Mars Express; and Geotail, a joint project involving NASA and Japan's Institute of Space and Astronautical Science.
When not tracking spacecraft, the network performs radio astronomy and conducts radar and radio science experiments. It also plays a key role in trying to detect asteroids that might be on a collision course with Earth. By "pinging" asteroids, network antennas can help determine the position and velocity of the objects, NASA officials say.
• To learn more about NASA's Deep Space Network
CLICK HERE
.
www.latimes.com/science/sciencenow/la-sci-sn-nasas-deep-space-network-dont-leave-earth-without-it-20131220
,0,6175137.story