Post by aerofoto on Apr 2, 2017 15:39:26 GMT 12
HJG/Historic Jetliners Group have just released another brand new "FREEWARE" project in the form of a Great British classic .... the
BRITISH AEROSPACE 146
.... an aircraft also later produced under licence by AVR
This new project features all major production variants of these "wisperliner" jetliners (including some lesser known developmental concepts which, despite having been built and flown, never actually entered production) as follows :-
Avro RJ-70
Avro RJ-85
Avro RJ-100
BAe 146-100
BAe 146-100 STATESMAN (CC2 MK1) .... VIP/military transport
BAe 146-100 STATESMAN (CC2 MK2) .... VIP/military transport
BAe 146-100 STATESMAN (CC2 MK3) .... VIP/military transport
BAe 146-100 QT.... Quiet Trader/freighter
BAe 146-100 STA (MSL) .... Small Tactical Airlifter (developmental Military Side Loader/Tanker)
BAe 146-100 STA (MT) .... Small Tactical Airlifter (developmental Tanker)
BAe 146-200
BAe 146-200 QT .... Quiet Trader/Freighter
BAe 146-200 QC (C3) .... Quick Change military transport/freighter
BAe 146-300
BAe 146-300 QT.... Quiet Trader/freighter
Each of the above aircraft type specific base packs are supported by 15 "NEW" 3D models; "NEW" FDE .... customized for each aircraft version; ARJ and BAe specific panels .... by Mathias LIEBERECHT .... now featuring some minor improvements ....
ARJ panel (featuring a semi-EFIS type flight and navigation instrumentation, AT, and FADEC engine system)
BAe panel (featuring analogue flight and navigation instrumentation)
"NEW" and extremely authentic ARJ and BAe aircraft type specific soundpacks .... by Benoit PLAMONON .... separate FS2004 and FSX audio versions the "quality" of which is "BEYOND IMPRESSIVE" .....
ARJ/BAe soundpack
And last but by no means least of all .... a selection of "NEW" and high quality textures representing the identities of both civil and military operators of these aircraft .... past and present .... from around the globe, and since the early 1980's.
ANSETT NEW ZEALAND introduced the type to the New Zealand domestic network during the early 1990's .... first in -200 and -200 QT form .... and which replaced the airlines B737-100's .... then later in the form of the larger BAe 146-300 .... and which replaced all of the airlines original BAe'146's and operated alongside its DHC-8-200's ....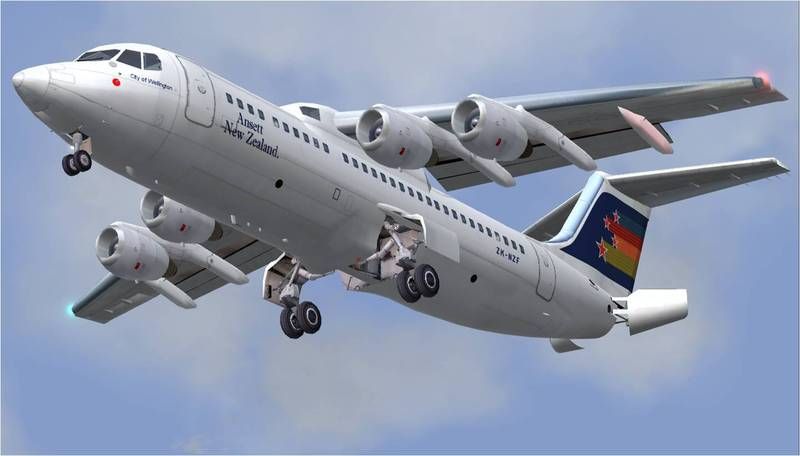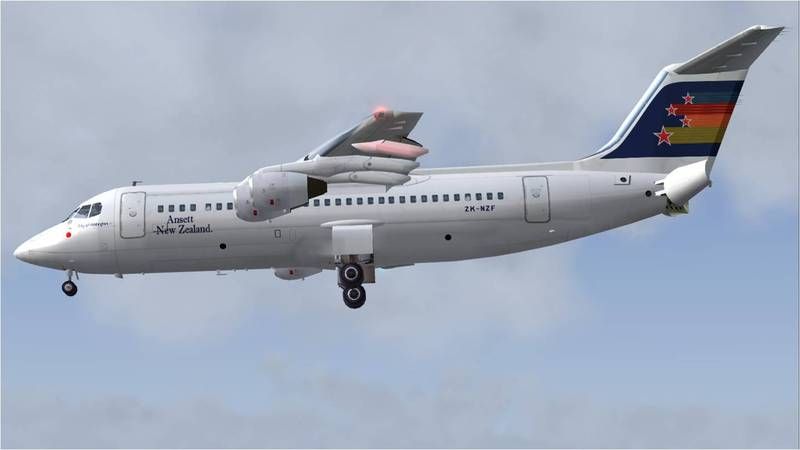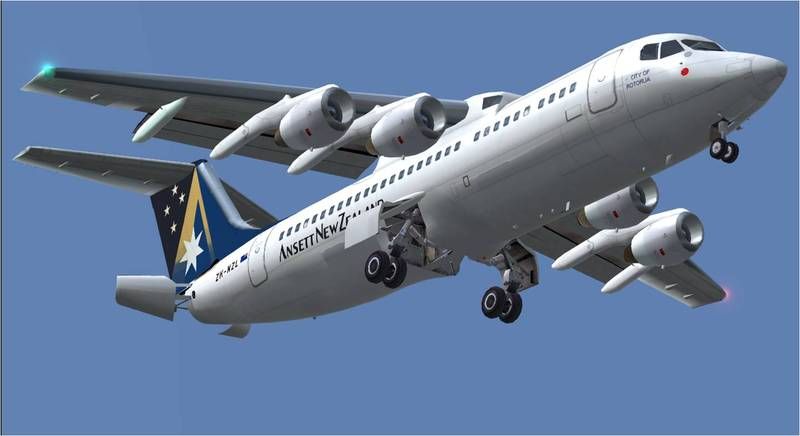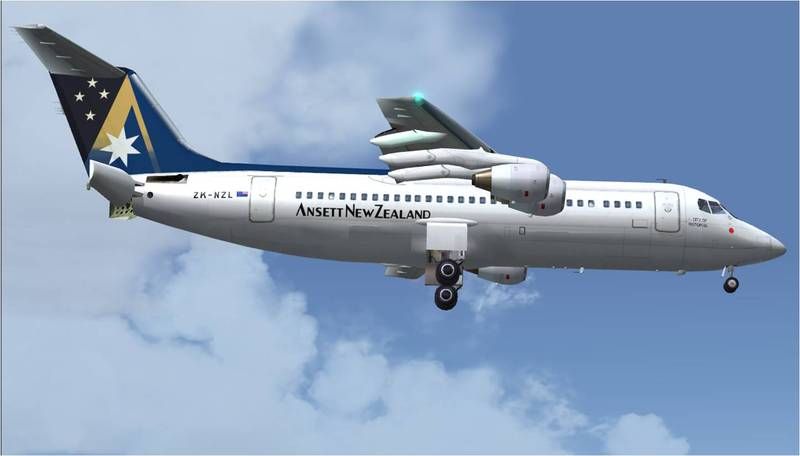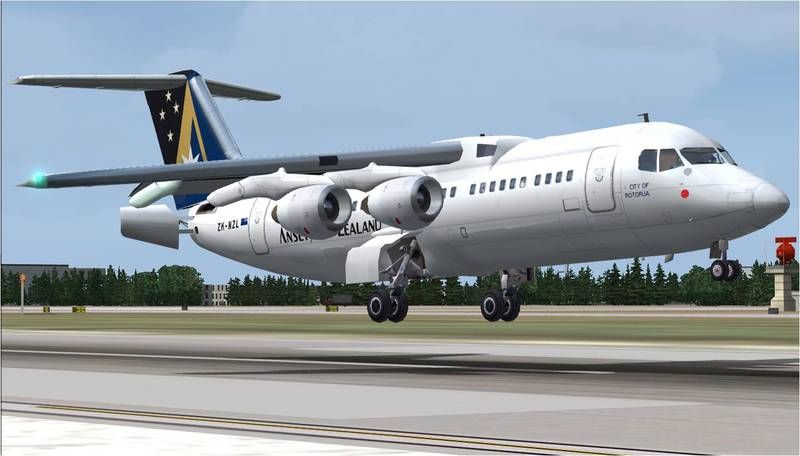 ANSETT NEW ZEALAND was acquired by QANTAS AIRWAYS during late 2000 .... the New Zealand division being branded QANTAS NEW ZEALAND, but, due to a "financial situation inherited from ANSETT" it suddenly collapsed during mid 2001 .... some 9 months after commencing operations ....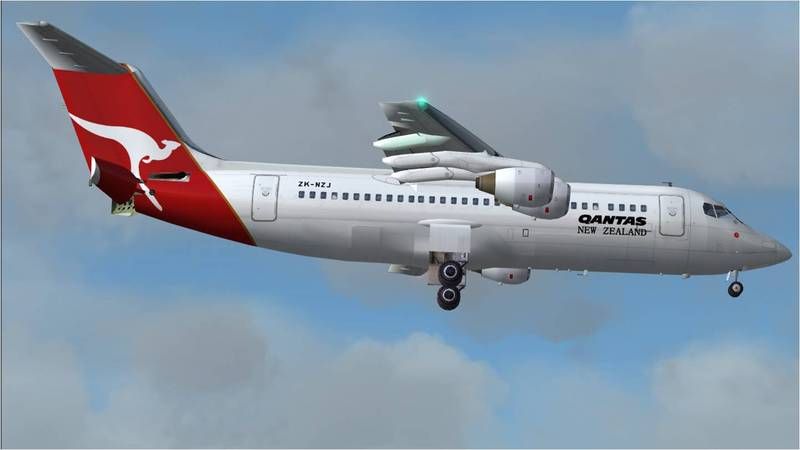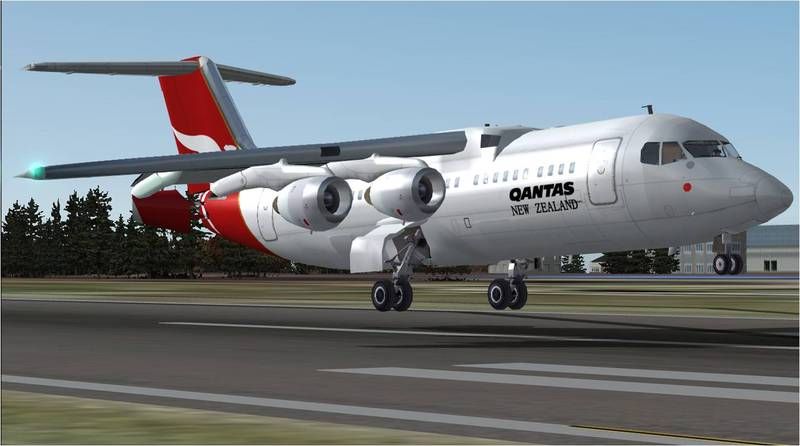 AIR NEW ZEALAND later acquired a small number of the former ANSETT NEW ZEALAND/QANTAS NEW ZEALAND operated aircraft, but, these didn't stay long with the airlines fleet ....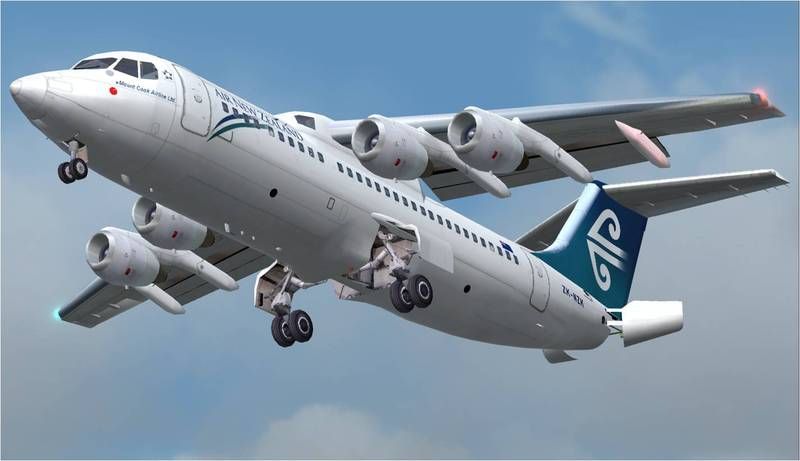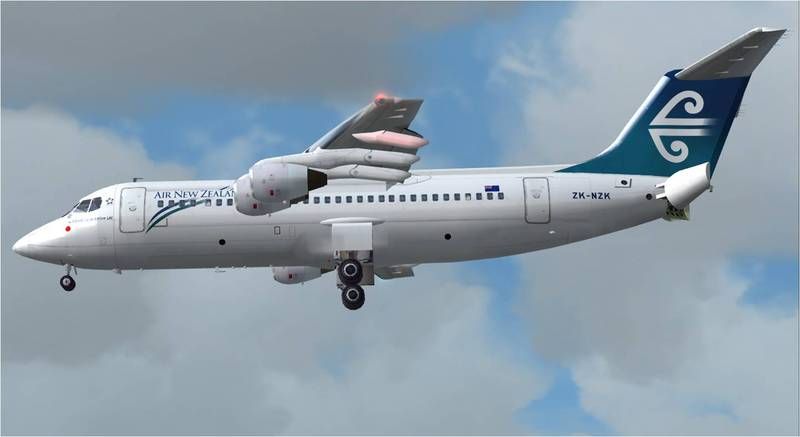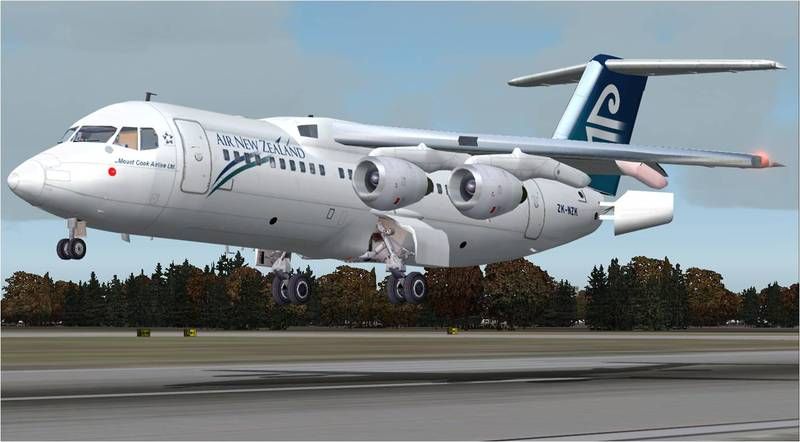 We don't have and ANSETT NEW ZEALAND BAe 146-200's or the -200 QT to offer yet, but, given we now have the necessary 3D models in place .... I'm quietly confident we "may" (possibly") be able to offer these in the very near future.
Hardly aircraft aircraft that ever "filled the skies with noise and smoke" (as HJG's Home Page introductory/welcome garb reads) .... but still .... a very successful, quiet and economic, short range, short field, and environmentally friendly classic from the 1980's, and an aircraft type which is now nearing the end of its in-service life within many parts of the world .... and .... is "a lot of fun" to fly in FS

Available from HJG "now" :-
simviation.com/hjg/


HJG ARJ/BAe SIMULATION FS COMPATIBILITIES
- All HJG supplied ARJ and BAe models and FDE are FS2004 native but FSX portable.
- Both HJG supplied ARJ and BAe panels (by Mathias LIEBERECHT .... modified slightly by HJG also) are FS2004 native "ONLY" .... these "ARE NOT" FSX compatible
- All HJG supplied ARJ and BAe soundpacks are represented by separate FS2004 and FSX specific/native file versions.
Mark C