Post by kiwithrottlejockey on Jan 26, 2018 13:13:30 GMT 12
from Aerospace Daily & Defence Report....
Russia's Doomsday Torpedo Is A 'Third Strike' WeaponBy JAMES DREW | Wednesday, January 24, 2018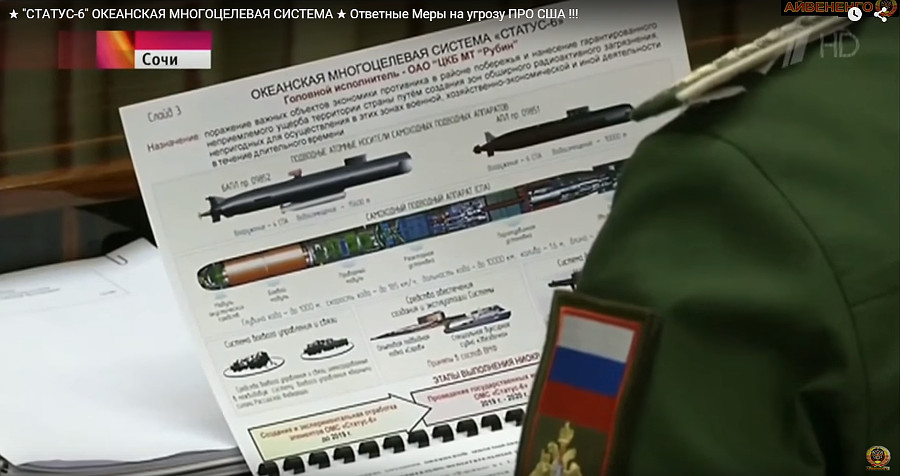 The existence of Russia's Status-6 UUV, an intercontinental-range nuclear torpedo, was first revealed by a Channel One news report in 2015.
— Picture: Channel One.T
HE Russian doomsday torpedo recently acknowledged by the Pentagon appears to be a multimegaton "third strike" weapon designed for maximum radioactive fallout.
Described by the
Defense Department
as a "new intercontinental, nuclear-armed, undersea autonomous torpedo," its development was first revealed in 2015 when a diagram of an ocean-going vessel leaked to the press.
The "multi-purpose Status-6 system," codenamed
Kanyon
by NATO, is one of two new intercontinental-range nuclear weapon capabilities being developed by Moscow, the second being a maneuvering hypersonic glide vehicle.
At the time, the Kremlin denied intentionally leaking information about the project, and the Pentagon wouldn't comment.
But times have changed, and the Defense Department now openly acknowledges the existence of the unmanned underwater vehicle in a leaked draft of the 2018 U.S. Nuclear Posture Review.
According to defense analysts in Washington, Russia appears to have developed the torpedo as the ultimate trump card over U.S. missile interceptors. Even if the U.S. managed to shoot down most ballistic and cruise missiles fired by Russia in a nuclear confrontation, the torpedo still would likely reach its intended target, the U.S.'s west coast.
The leaked diagram from 2015 suggests that Status-6 can be armed with a 100-megaton-yield nuclear device, potentially shrouded in cobalt to enhance the radioactive fallout.
Speaking at The Heritage Foundation on January 18, General Kevin Chilton, a former Air Force fighter pilot and
NASA
astronaut who led U.S. Strategic Command from 2007-11, warned about the devastating effects of such a device. He says unlike the U.S., Russia has not stopped designing new nuclear weapons for "deterrence, coercion and to support its nuclear declaratory policy."
"They've supposedly 'accidentally' revealed the existence of a long-range, nuclear-powered underwater vehicle with trans-pacific range and a speed that allows it not to be sunk or stopped," he explains. "[It's] armed with a multi-megaton warhead designed to create maximum fallout to impact Seattle, San Francisco, Los Angeles, and San Diego and create a nuclear cloud that would disperse across the U.S. carried on the prevailing westerly winds, destroying the ability of our breadbasket to produce food."
Chilton says Russia also has discussed arming icebreakers in the Arctic with cruise missiles capable of reaching the continental U.S. He says the nuclear-armed torpedo and weaponized icebreakers would not be constrained under current strategic arms reduction treaties (START), unlike Moscow's submarine- and land-based intercontinental ballistic missiles.
"Russia is not only building new strategic nuclear weapons for their ICBMs and SLBMs, within the START treaty limits, but they're also building tactical and theater nuclear weapons to go on surface-to-air missiles, surface-to-surface missiles, nuclear depth charges, nuclear torpedoes and cruise missiles for ships and submarines," he says. "Despite Russia's pledge to decrease their tactical nuclear weapons inventory, they've increased it while we've eliminated ours essentially."
Michael Kofman, director of the Russia Studies Program at the Arlington-based Center for Naval Analyses, says the nuclear-armed torpedo is Russia's answer to U.S. missile defense systems, like
Boeing
's Ground-Based Interceptor.
Kofman notes that Status-6 is the "grandson" of a Cold War-era Russian program: the high-yield T-15 torpedo, which was discontinued around 1954. A weapon of last resort, if fielded, Status-6 would cancel out any hope of victory or survival in a nuclear confrontation with Russia.
"It's a third strike weapon," he says. "It's not crazy at all. If we're working on missile defense, why should they not be working on intercontinental systems that cannot be defeated by missile defense? It's to ensure none of the U.S.'s damage limitation strategies work."
The public acknowledgment of new Russian capabilities comes at a time when the U.S. is setting up a trillion-dollar, 30-year nuclear modernization program. Along with building new bombers, missiles, and submarines, the Trump administration also wants new tactical nuclear weapons, including a sea-launched cruise missile and low-yield warhead option for the Trident D5 SLBM.
The Pentagon has also begun researching a non-nuclear, ground-launched cruise missile in response to Russia's deployment of the intermediate-range 9M729 missile, designated SSC-8 by NATO.
Michaela Dodge, a senior policy analyst at The Heritage Foundation, says the Trump demonstration's Nuclear Posture Review clearly identifies Russia as a serious threat and acknowledges the new types of weapons it is building.
Until now, the U.S. has resisted designing new nuclear weapons, but Dodge notes that the draft versions of the soon-to-be-released NPR explicitly talks about new weapon options, including the production of up to 80 new plutonium cores, or "pits," per year by 2030.
To meet this new strategy, Dodge says the U.S. must invest heavily in the laboratories, factories, and infrastructure needed for new nuclear weapons production. She says the U.S.'s nuclear weapons complex has been allowed to atrophy over the past two decades.
"When you think about the production complexes of Russia and China, the disparity is incredible," she says.
__________________________________________________________________________
• A journalism graduate of the University of the Sunshine Coast in Queensland, Australia, James Drew moved to Washington, D.C. in January 2014 to pursue a career in defense trade reporting after more than two years writing for community newspapers in Brisbane. James began reporting for
Inside Washington Publishers
'
Inside the Air Force
before moving to
Flightglobal
, where he traveled extensively as a Washington-based military aviation reporter for the company's online and print publications. James is a former Australian Army Reserve rifleman with an interest in military hardware, media, photography and video production. He joined
Aviation Week
in June 2016.
aviationweek.com/defense/russia-s-doomsday-torpedo-third-strike-weapon