Post by ZacYates on Oct 27, 2019 10:15:19 GMT 12
Hi all,
I shared all this in the Convair history thread in Civil but, to save it getting lost, I figured it deserved its own thread.
25/09/19: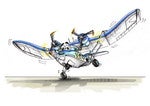 CV-580: MSN 381, Convair 440 delivered to Sabena as OO-SCT in December 1956. Converted to CV-580 in September 1968. Registered ZK-CIF to Air Chathams September 2005. Retired from service with Air Chathams earlier in 2019, in storage.
Passenger only aircraft, CIE & CIF were both purchased from Alaska based Era Aviation with prospect of services in the Pacific. Both CIE and CIF were operated for periods with Peau Vavau and Chathams Pacific on Tongan and Pacific routes. Both have also provided backup for the Chatham Island Service.
CIF was grounded earlier in 2019 and appears to be undergoing process of parts reclamation.
ZK-CIF was on TradeMe for a while and made the news as it was being advertised as a potential "tiny house". It has been purchased by Whanganui man James Barron, will be moved to the seaside suburb of Castlecliff and turned into accommodation.
It was the front page of today's Whanganui Chronicle newspaper but I won't link to their site as the story is behind a paywall. Fortunately the 3rd Level blog has the story in full:
3rdlevelnz.blogspot.com/2019/09/airliner-to-accommodation.html
The aircraft has its own (under construction) webpage:
www.castlecliff.nz/zkcif
and Facebook page:
m.facebook.com/ZK-cif-aka-The-Spirit-of-Whanganui-or-Te-Wairua-o-Whanganui-122816912441775/
The news story mentions she will be located near Karaka Street. As I live on Karaka Street this is very exciting.
26/09/19:
From the aforementioned ZK-CIF Facebook page, scans of yesterday's Whanganui Chronicle (I missed out on a copy as both the local dairy and local Four Square were sold out when I went in):
Untitled
by
Zac Yates
, on Flickr
Untitled
by
Zac Yates
, on Flickr
27/10/19:
Last night the team shared this video on their Facebook page. It can't be often an aircraft gets to tell its own story! ;-)
www.facebook.com/zkcif/videos/480623502540855/
Based on an "event" created on Facebook CIF will be moved from Auckland to Whanganui in the coming days, possibly arriving in my (literal!) neighbourhood on Thursday. Very exciting times!