Post by aerofoto on Mar 27, 2020 7:16:59 GMT 12
"IF" anyone's interested .... I covered G-73 MALLARD ZK-CDV within my followig-linked NZ GRUMMAN amphibians history .....
"ECHOES OF AN ERA" (PART 1 & 2)
tonymadgehjg.proboards.com/thread/5950/lifetime-interest-27-years-research
For quick reference I quote that portion of my articles relating to this particular aircraft as follows ....
Although the subject of this historical review is intended to focus primarily upon SEA BEE AIR and its orgins .... and the New Zealand civil operated GRUMMAN GOOSE and WIDGEON amphibian aircraft in particular .... mention must also be made of GRUMMAN G73 MALLARD ZK-CDV, since it remains the only aircraft of its type to have ever been operated in New Zealand.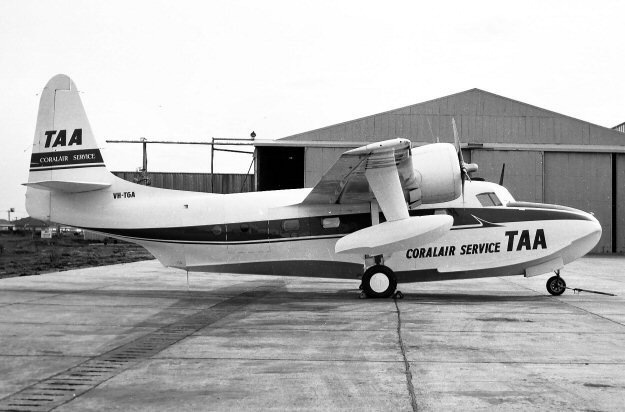 Grumman G73 Mallard VH-TGA in TAA service during 1963 prior to being iported to New zealand as ZK-CDV. Photo: Ed COATES collection.
Grumman G73 Mallard ZK-CDV operated by Utah Williamson Burnett Invercargill Ltd Manapouri hydro-electric joint venture project between 1963 and 1969. Photo: Private collection/NZ CIVAIR.
Grumman G73 Mallard VQ-FDC "Na Secala" (ex ZK-CDV) prior to delivery to Air Pacific during 1970. Photo: Private collection/NZ CIVAIR.
G73 MALLARD C/N # J13 ZK-CDV - KNOWN HISTORY
Built as a civil MALLARD, 1946
Delivered to "a Canadian operator", CF-FFC, January 25th 1947
Sold to SHELL OIL, Indonesia, PK-AKG, 1951
Sold to NEDERLANDS NIEUW GUINEA PATROLUEM MIJ, Den Haag, Netherlands, JZ-PCB, 1955
Leased to DE KROONDUIF, Wisselmeren, Dutch new Guinea, JZ-PCB, November 1959
Operated for NV OOST BORNEO MIJ, JZ-PCB, March 1960
Withdrawn from service at Biak, Indonesia, and returned to DE KROONDUIF, JZ-PCB, August 31st 1960
Sold to EAST COAST AIR SERVICES, Brisbane, Australia, VH-TGA, 1962
Transferred to TRANS AUSTRALIA AIRLINES/CORALAIR SERVICE, VH-TGA, June 1963
Sold to UTAH WILLIAMSON BURNETT LTD, Invercargill, New Zealand, ZK-CDV, October 1963
Sold to NEW DEPARTMENT OF INTERNAL AFFAIRS, Wellington, New Zealand, ZK-CDV. 1969
Sold to AIR PACIFIC, Fiji, VQ-FDC "Na Secala", April 10th 1970
sOld to "a US operator", N2942H, 1971
Sold to "a Canadian operator", C-GRZI, 1978
CURRENTLY OWNED BY Steve HAMILTON, Reno, Nevada, USA, N2950
GRUMMAN G73 MALLARD TECHNICAL SPECIFICATIONS - CIVIL CONFIGURATION
Length = 48 fT 4 IN
Wing Span = 66 FT 8 IN
Power Plant = 2X P&W R-1340-S3H1 engines rated at 600 HP
Weight = 12,700 LBS MGTOW
PAX Capacity = 10-12 (plus 1-2X pilots)
Range = 1.300 NM
Speed = 210 KTS (max) - 180 KTS (typical cruise)
Type = Amphibious transport with tricycle undercarriage and fixed/non-retractable wingtip floats
This aircraft was imported/ferried to New Zealand by UTAH WILLIAMSON BURNETT LTD on October 13th 1963 .... having been previously operated in Australia by EAST COAST AIRLINES during 1962 followed by its transfer to TRANS AUSTRALIA AIRLINES/CORALAIR SERVICE (for a month only .... since the airlines Mackay/Shutes Harbour/Brampton Island service was suspended due to the aircrafts rough water peformance limitations) during June 1963 (VH-TGA). It was then based at Invercargill, New Zealand, between 1963 and 1969, and operated under the UTAH CONSTRUCTION & MINING COMPANY INVERCARGIL banner .... being used to ferry construction workers and their support equipment to and from the Lake Manapouri joint hydro-electric dam/power project which was under development, in Fiordland, during this period. Throughout the 5 year duration of this construction project the aircraft operated a total 2,763 flights .... during which some 13,536 PAX and 712 tons of freight were transported in support of the project and upon its completion the aircraft was then sold to the NEW ZEALAND DEPARTMENT OF INTERNAL AFFAIRS, and overhauled by NEW ZEALAND NATIONAL AIRWAYS CORPORATION, at Christchurch. It was then sold to AIR PACIFIC (VQ-FDC .... named "Na Secala") on April 10th 1970, but, was withdrawn from service, in Fiji, on October 31st 1970. On April 1st 1971 this aircraft was sold to US interests (N2442H) .... followed by its sale Canadian interests (C-GRZI) during 1978 .... and it was finally acquired by Steve HAMILTON (N2950) of Reno, Nevada, during 1993. Throughout its entire career .... both before and during its New Zealand service .... this particular aircraft suffered a number of nose gear/hydraulics failures which resulted in damage during ground landings and its constantly being repaired and then returned to service. Neither the GRUMMAN G73 MALLARD, nor the larger G111/HU16 ALBATROSS, ever saw civil airline service in New Zealand .... the nose gear configuration of these aircraft (apparently) posed too much, prospective, difficulty for operations into unimproved coastal destinations throughout New Zealand (most of which lacked ramp fascilities necessary to accomodate these aircraft), as well as the types known rough water performance limitations.
GRUMMAN G73 MALLARD N2950 (ex ZK-CDV) .... is still, currently, owned by Steve HAMILTON, of Reno, Nevada, USA, and with whom it has remained since 1993.
Grumman G73 Mallard N2950 (ex ZK-CVD) still in service today. Photo: Private collection
Mark C
AKL/NZ