Post by Antonio on Jan 29, 2022 12:07:03 GMT 12
An enjoyable read (with links)
yourmileagemayvary.net/2022/01/23/the-one-active-division-of-pan-am-thats-still-up-running/
During "the golden age of flying," the U.S. had 3 iconic airlines among others: Eastern Air Lines, Trans World Airlines (TWA) and Pan American World Airways (Pan Am). They were all immensely popular for decades, but all three eventually fell prey to changing times, increased competition, and rising costs in the latter quarter of the 20th century.
Founded in 1926, Eastern was one of the earliest major U.S. air carriers. It was headquartered in Miami, and was even headed by famous WWI flying ace Eddie Rickenbacker for a while. From 1930 through 1950, Eastern enjoyed a near-monopoly on passenger air travel along the Florida to New York corridor. The airline also pioneered air shuttle service, which they established between New York and Washington, D.C., as well as New York and Boston. But the good times couldn't last forever. Loaded with debt, Eastern filed for bankruptcy in the late 1980s and was extinct by 1991.
TWA was founded as two companies – in1926 as Western Air Express, and in 1928 as Transcontinental Air Transport. The two merged in 1930 to become Transcontinental & Western Air, which eventually changed its name to Trans World Airlines. TWA became a major international carrier after its acquisition by billionaire Howard Hughes in 1940. The airline was known as a luxury carrier and considered to be at the cutting edge of technological innovation in air travel into the 1960s. Like Eastern, TWA had increased financial problems in the 1980s. It was forced into bankruptcy in 2001 and was acquired by American Airlines.
Pan Am, founded in 1927, was once one of the most recognized airlines in the world. Pan Am was a founding member of the International Air Transport Association (IATA) and was also the main international air carrier in the United States from 1927 to 1991. Like TWA, Pan Am was considered one of the most luxurious airlines to fly during the 1950s and 1960s. However, it became a victim of deregulation in the 1970s and went into a spiral of debt before closing up shop in late 1992.
Both Eastern and TWA are 100% "gone" gone, although there have been a few nods to each. Pan Am has even more than that:
Eastern

In 2011, a group purchased the intellectual property of Eastern Air Lines, including its trademarked material, and formed the Eastern Air Lines Group. Once it had all its aviation ducks in a row, the new airline began service through charter and wet-lease flights out of Miami International Airport in late 2014, complete with Boeing 737-800 jetliners painted in the classic Eastern "hockey stick" livery.
Beginning in 2015, Eastern operated charter flights for a variety of college and professional sports teams. It also operated scheduled charter operations to Cuba –
Joe and I got to enjoy a round trip of their flights to/from Havana
in March 2016.
Photo: Andrew E. Cohen
In 2017, SwiftAir acquired Eastern Airlines. The Eastern name was transferred to Dynamic International Airways, an airline co-owned by Swift ownership. It now operates as Eastern Airlines, LLC. But they didn't keep the old Eastern logo. 🙁

TWA

Following being absorbed by American Airlines, TWA continued to exist as an LLC under American Airlines until July 1, 2003.
On December 16, 2013, Doug Parker, CEO of American Airlines Group, announced that TWA heritage aircraft would be added in the future. On November 16, 2015, American painted a 737-823 in the TWA livery (with American title).
Photo:Venkat Mangudi - N915NN_KMIA
However, (what I consider to be) best of all, the TWA Hotel opened at JFK Airport in May, 2019. It utilizes the head house of the TWA Flight Center, designed in 1962 by the architect Eero Saarinen, and they added one building on each side of the existing head house for the hotel rooms. The TWA Hotels contains a total of 512 rooms, as well as conference space, several restaurants, and an aviation history museum. And don't forget the Lockheed L-1649A "Super Star" Constellation parked at the TWA Hotel! They turned her into a bar named "Connie."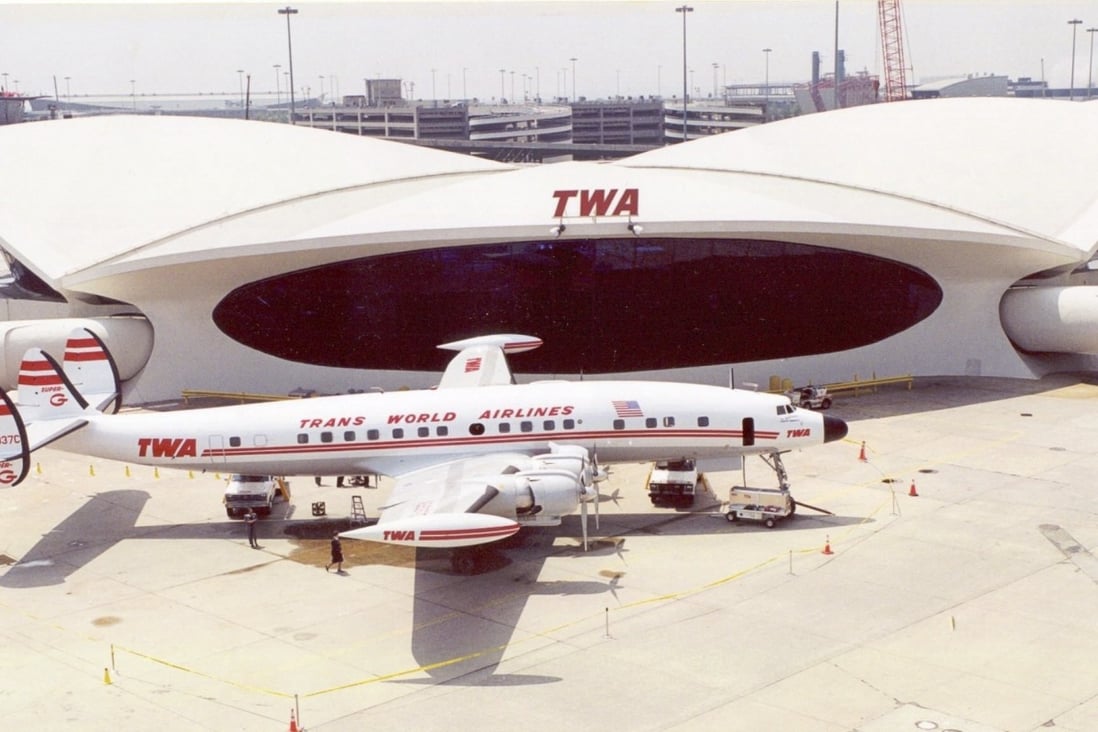 Rare 1958 era TWA plane to be used as a retro hotel's cocktail lounge
Joe and I have stayed at the TWA Hotel twice:
Here's our review of
Two different room types at the TWA Hotel
(yeah, we switched rooms so we could experience both).
Everything else the hotel has to offer
(it's adorable! Kitsch galore!).
Their
holiday décor
is amazing.
If you stay at the TWA Hotel
, don't do this!
Oh! And has anyone else
noticed this about the hotel?
Pan Am

Pan Am may arguably have had the most happening in terms of "winks" and "hat tips" since it declared bankruptcy and ceased operations:
— It was the subject of a TV series that ran from 2011 to 2012, which, in turn, spawned all sorts of cool, retro merchandise.
— The airline's first office is still standing in Key West, FL and has been converted into a restaurant. We visited in Spring of 2021 and it's lovely.
— Its brand is still available for licensing.
— The Pan Am Experience is currently closed due to COVID. But it's typically, "a weekly retro-themed event for aviation enthusiasts and people looking for a new fine-dining experience." Debuting in 2014, its co-founded by Anthony Toth (a self-proclaimed Pan Am superfan), and Talaat Captan – founder and CEO of Air Hollywood. Here's a good explanation of the Pan Am Experience. And this is our review of when Joe and I went.
But I saved the best for last, because Pan Am also has one special thing that Eastern and TWA don't – there is one last vestige of the ORIGINAL Pan Am, that never went out of business.
Pan Am Flight Academy. They bill themselves as the world's most experienced aviation training company.
Pan Am Flight Academy being the leading provider of training support for regional, national, and international airlines and aviation professionals. Pan Am Flight Academy is the only surviving division of original Pan American World Airways, Pan Am Flight Academy can trace its instruction heritage to the earliest days of airline flight training.
The Academy's story began in the early 1960s as an airline, Pan American World Airways. In 1980 Pan American Airways opened its pilot training facility in Miami, Florida, still its base of operations today. Presently, Pan Am has more years of airline training experience than any other aviation training school in the world.
Pan Am Flight Academy provides a professional training experience at the best price with a corporate commitment to meet private and commercial customer objectives.
Purchased by All Nippon Airways around 2013, the Japanese company has poured money into the academy, allowing it to enjoy continued growth.
Pan Am Flight Academy currently owns and operates more than 70 simulators and trains on the Boeing 707, Boeing 737, Boeing 747-200/400, Boeing 767, Boeing 777, Airbus A320 family, and Saab 340. They also allow the use of their flight simulators and professional aviators for TV shows and films.
The academy as a whole was even a hero of sorts.
From Wikipedia: On August 17, 2001, Zacarias Moussaoui, the so-called "20th hijacker" of the September 11, 2001, attacks, was arrested after an instructor at Pan Am International Flight Academy became suspicious of him. In a piece in the New York Times, Michael Erlandson, chief of staff on the Appropriations Subcommittee on Transportation is quoted as saying: "The Pan Am people are heroes who worked very diligently to make themselves heard at the FBI."
So if anybody ever tells you that Pan Am is gone, you set them right. A division of that iconic airline is alive and well in Miami, teaching pilots, flight attendants/cabin crew, and those involved in aviation maintenance to do what they do.