Post by Dave Homewood on Mar 1, 2017 21:04:22 GMT 12
Tony Vine from Australia has very kindly sent me the following photos that belonged to his late father Ron Vine.
Tony says, "My father, a RAAF member, flew with 487 as a WO/AG (Venturas) before it converted to Mosquitos in mid 43 and he moved onto to Liberators. His Pilot (Kiwi) and Nav (Canadian) remained with 487 and participated in the Amiens raid. The other gunner, a Yank in the RAF, transferred to the USAAF and was shot down in 44 and spent the last year as a POW. Being young and carefree they called themselves "the international crew". They all survived the war plus 40 years."
No. 487 (NZ) Squadron Venturas enroute to a raid over France
Spitfire Escort on Same raid sometime between Feb and June 1943
The King RAF Feltwell June 1943
. L-R Sgt Bob Fowler RNZAF (Pilot) – shaking hand with HRH. Sgt Frank Wilkins RCAF (Nav), Sgt Ron Vine RAAF (WO/AG), Sgt Artie Kempton RAF (AG)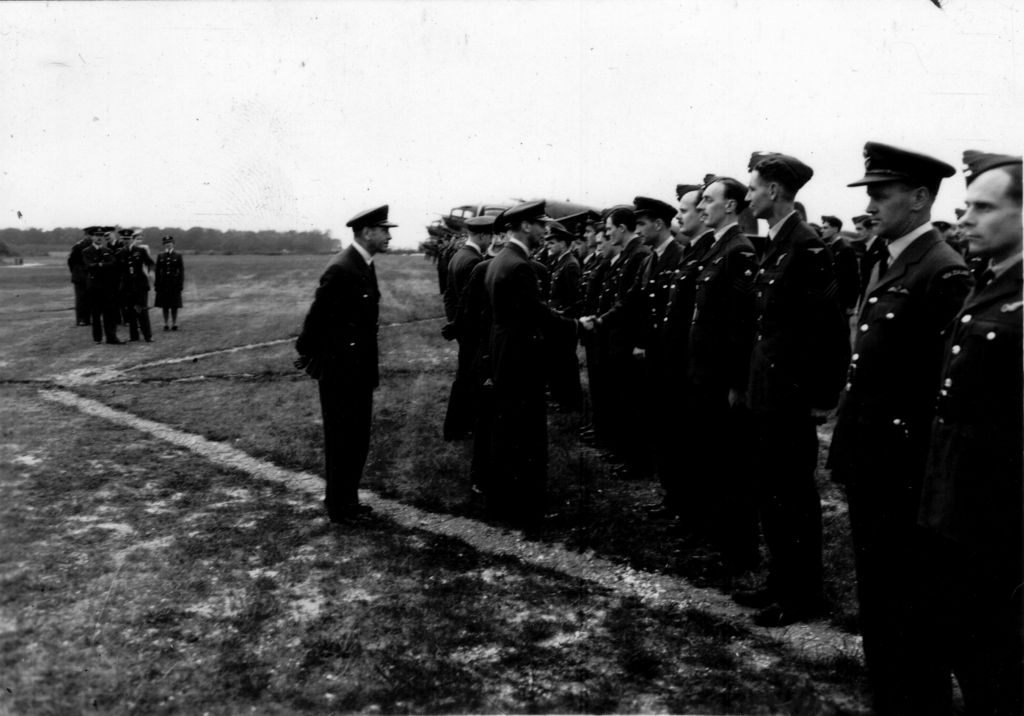 The King RAF Feltwell June 1943 – shaking hands with Flying Officer Park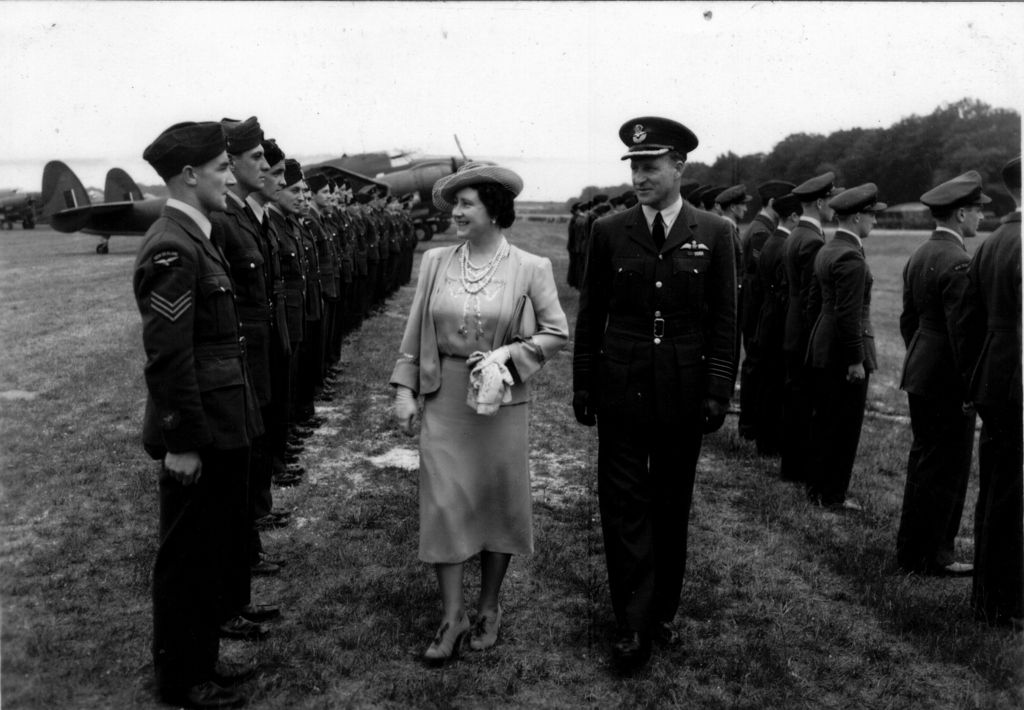 The Queen with the Base Commander Group Captain Young – Probably RAF Feltwell June 1943
L-R Sgt Bob Fowler RNZAF (Pilot). Sgt Frank Wilkins RCAF (Nav), Sgt Ron Vine RAAF (WO/AG), Sgt Artie Kempton RAF (AG)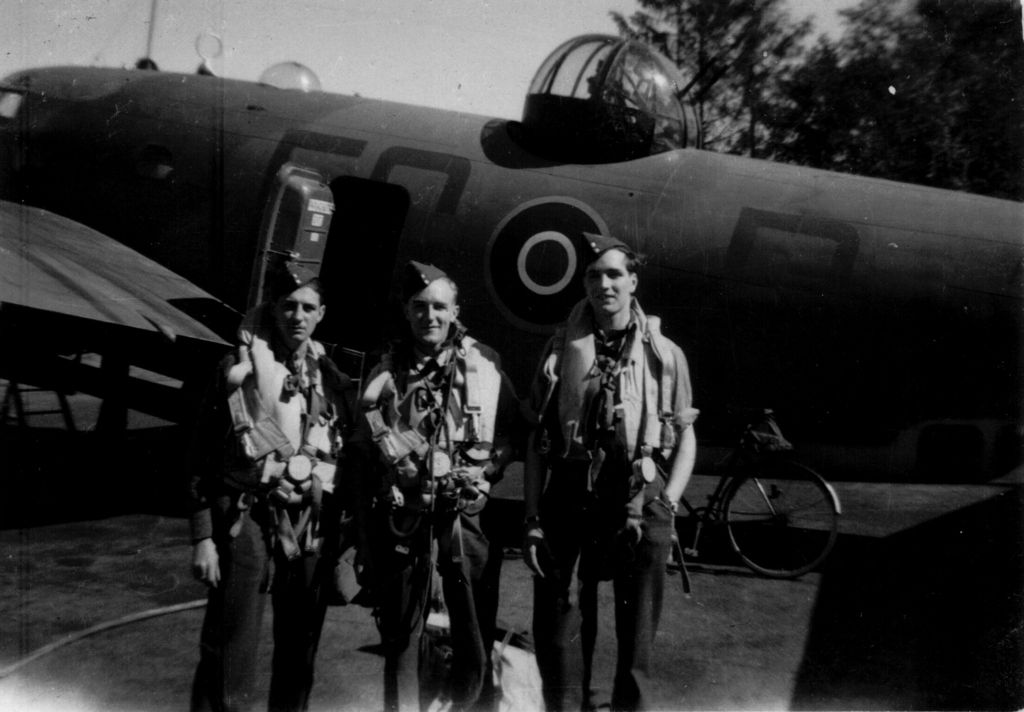 487 – UK Wilkins, Fowler and Kempton
The International Crew – showing off their different uniforms. The actually cheated as the RAF and RNZAF uniforms were the same, so the Air Gunner wore the Summer uniform for effect. Possibly taken at Pennfield Ridge New Brunswick, Canada during Operational Training.
Tony has also written the following today about his father's crew for us:
The International Crew
by Tony Vine
In mid- July four young men met and formed a crew at 34 Operational Training Unit (34 OTU) at Pennfield Ridge, New Brunswick, Canada where they would train on the Lockheed Medium Bomber. The men not only came from very different backgrounds, but also from different countries. They were;
• Sergeant Bob Fowler RNZAF
from Christchurch in New Zealand. Bob had just been awarded his wings and at 25 was the "old man" of the crew.
• Sergeant Frank Wilkins RCAF
from Edmonton Alberta, Frank had qualified as an observer and on the medium bomber filled the dual role of both navigator and bomb aimer.
• Sergeant Ron Vine RAAF
, from Picton NSW Australia. Twenty year old Ron had trained in Calgary, Alberta and Defoe, Saskatchewan, A former cadet engineer with Amalgamated Wireless Australasia (AWA) he was fly as the wireless operator/air gunner.
• Sergeant Artie Kempton
from Brooklyn, New York. Artie had crossed the US/Canadian border in 1941 and enlisted in the RAF. He had qualified as a WO/AG but would fly in the crew as the second gunner.
The men tagged themselves "
The International Crew
" and took great pride in their diverse backgrounds, despite constant ribbing from their course mates. At Pennfield Ridge they learnt not only how to fly the Ventura but also formation flying, bombing and aerial gunnery.
Pennfield Ridge is to the west of the Bay of Fundy, which was almost the same width as the English Channel over which the men would have to operate. Over the next three months they flew mock missions across the bay and south into Maine in the USA.
They graduated from 34 OTU in mid-October and after a short leave in New York they embarked for the United Kingdom on the
RMS Queen Elizabeth
on the 28th of October 1942. As they had already completed OTU their stay at the Personnel Despatch & Receiving Centre (PDRC) at Bournemouth was short and by late December they had joined 487 (NZ) Squadron. I say short as Ron Vine's future brother in law Bill Gunning was also on the
RMS Queen Elizabeth
and he had to wait at the PDRC until the end of December before posting from Bournemouth. Bill would not join a squadron (466 RAAF) until mid June - he was killed three weeks later.
Bob Fowler's crew made their first flight with B Flight, 487 Squadron on the 22nd of December and their first operation was an attack on the docks at Dunkirk on the 27th of February 1943. Over the next few months they flew operations to Caen, Dieppe and Boulogne, and Haarlem in Holland. On the Boulogne raid, their aircraft was holed 135 times and Bob Fowler had to fly the aircraft back to base with no elevators, maintaining the attitude and altitude of the aircraft using a combination of engine power and trim tabs. He made a successful high speed landing. Ron Vine was hit by flak in the attack shattering his top teeth (later removed by the base dentist) and in his foot which required a number of stitches. The crew, including Ron flew again two days later.
On the third of May the squadron was decimated when all 11 aircraft in a raid to Amsterdam were shot down, including the Commanding Officer Leonard Trent who was awarded the VC for his actions that Day. Bob Fowler's crew were a standby aircraft and fortunately was not called on to fly.
The Ventura's were deemed too slow for daylight operations and after the May 3rd raid they were relegated to Air Sea Rescue Operations and training. On the 13th of September when the crew flew their last operation together when the squadron began to re-equip with the two crew member Mosquito.
Bob Fowler and Frank Wilkins would continue to fly together on 487 including on the famous Operation Jericho when the walls of the Amiens Prison were breached to free resistance workers who were facing death.
Ron Vine was posted to 15 OTU to train on heavy bombers and in November 1943 he had to parachute from a burning Wellington over Norfolk on a training flight. Two days later he took part in an operational mission to Rouen in France and in December on a second raid to Paris. It was around this time Ron saw a request for Wireless Operators to volunteer for service on the B-24 Liberators. The only Liberator Squadrons Ron knew about were operating from the Bahamas and Northern Ireland and after his experiences over Europe he thought that the Liberator was a safer bet than Bomber Command.
Within days of volunteering Ron found himself on a ship heading to India where he flew with 355 Squadron RAF on the Liberator. Attacking targets mainly in Burma, Thailand and Malaya, Ron flew thirty missions with 355. On his fourth mission, a raid on Mandalay, Burma, his aircraft was holed in the fuel tanks and ran out of fuel soon after reaching India. Ron once again found himself parachuting from his aircraft over friendly territory. He completed his tour in February 1945 and was posted back to UK arriving there in May 1945, and then had to join a queue of men awaiting repatriation to Australia.
Artie Kempton was made to transfer to the USAAF in 1944. A crew member of a B-17 Flying Fortress, he was shot down in a daylight raid over Germany in 1944 and spent the remainder of the war as a POW.
All four men survived the war and returned to their families.