Post by Dave Homewood on Jan 7, 2010 15:55:55 GMT 12
www.stuff.co.nz/auckland/local-news/north-shore-times/3209764/Navy-museum-is-in-full-sail
Navy museum is in full sail
By LUCY VICKERS - North Shore Times
Last updated 05:00 07/01/10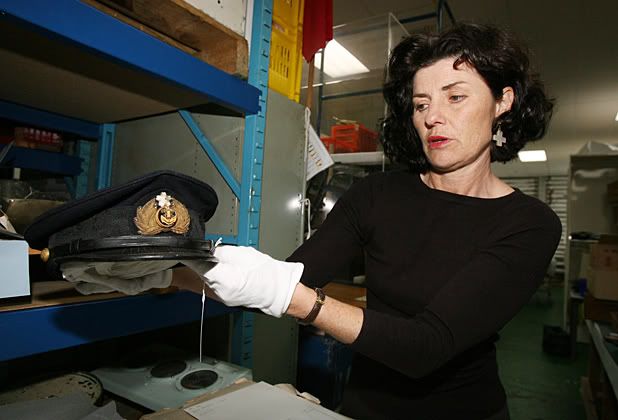 OLD HAT:
Navy Museum exhibitions project manager Rose Evans with a Japanese kamikaze pilot's hat.
Memorabilia never been shown before will be displayed when a new Navy Museum opens in August.
Navy Museum exhibitions project manager Rose Evans says landmines, grenades, an anti-submarine torpedo and guns, personal diaries, letters and photograph albums are some of the items that may be displayed in the new Torpedo Bay premises in Devonport.
New permanent exhibitions will showcase the development of the New Zealand Navy through the lens of the navy's values - commitment, courage and comradeship.
The current Navy Museum is in Spring St, and Ms Evans says relocation isn't quite the right word, because Torpedo Bay will be a whole new museum.
Ms Evans has previously worked on exhibitions at Te Papa in Wellington.
She says some of the items that have been kept in storage include personal diaries.
An excerpt from one of them, a leather bound pocket-sized diary once belonging to Charles Harris, who was a stoker on HMS Achilles at The Battle of the River Plate, says: "Dec 13th 0620: Challenged Von Spee, 10,000 ton pocket battleship and she opened fire on us at 20,000 yards.
"Action Stations!! The most exciting experience I have ever even had, shrapnel from about 10 shells splattered the ship and killed four and wounded four others.
"Her shells and torpedoes landing within a few yards of us.
"We led a charmed life. It only wants one of her shells to hit us and we won't go home at all."
Ms Evans says the diary, donated by Mr Harris' daughter, shows a fine hand and colourful prose.
"Interestingly diaries were not permitted in the navy because of the security restrictions, and to avoid exposing secrets and locations in wartime.
"But we have quite a few wartime diaries in our collections contrary to those strict navy rules."
Other items that have been in storage include a red and yellow Japanese naval pennant with badges attached.
The original owner acquired the pennant from the Japanese battleship
Nagato, which was disabled in Tokyo Bay when Task Force 31 boarded the vessel.
There is a Japanese naval officer's cap worn by a Mr Kinase during World War Two while he was a naval aviator flying Zero aircraft.
Later in the war he was an instructor who taught kamikaze pilots.
And personal items that belonged to acting leading signalman Campbell Howard Buchanan were donated to the museum by his sister, Christina Neill.
Mr Buchanan played an integral role in an engagement during the Solomons campaign.
Mrs Neill gave Mr Buchanan's medals, memorial cross, watch, money belt, and photograph album with images of ships and shipmates and places he travelled to - San Diego, Tahiti and Jamaica.
She also donated his diary from 1941, postcards and autographed ships magazines.
Mr Buchanan was on board the ship HMNZS Kiwi when it attacked the Japanese submarine I-1 in 1943.
He used Kiwi's signal lamp as a searchlight and illuminated the submarine, improving the accuracy of the gunners. Kiwi rammed the I-1 three times, causing the submarine to run aground on a submerged reef.
Throughout the action, the Japanese machine gunners continually fired on Kiwi, and particularly on Mr Buchanan and the signal lamp.