Post by kiwithrottlejockey on Jul 13, 2011 18:49:57 GMT 12
World War I soldiers regain voicesThe Dominion Post | 5:00AM - Wednesday, 13 July 2011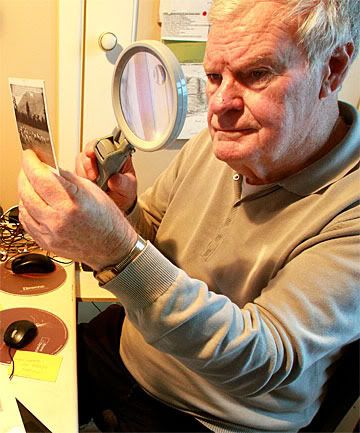 WEIGHTY WORDS: Robert Cameron, above, and a letter, above
right, that Gunner Leslie Gower of Wellington, below left, sent
from Gallipoli, where he was killed at Cape Helles. A suitcase
of Mr Gower's letters and postcards set Mr Cameron on
his mission to identify soldiers who wrote home from
World War I. — ANDREW GORRIE/The Dominion Post.T
HE IDENTITIES of World War I soldiers are being traced through the messages of love they sent home in letters and postcards.
Bob Cameron has spent the past eight years trying to trace the writers of letters sent home by long lost World War I soldiers.
Now he's hoping that by posting his findings on a blog, family members will be able to discover their relatives' messages.
Mr Cameron, 79, of Karori, spends much of his days in the Alexander Turnbull Library poring over faded handwriting on diaries, postcards and letters, trying to glean hints at a writer's identity.
"I've had a lot of success and I get very excited when I suddenly find out who the guy is ... You'd never get them all. There are still some that I'm really puzzled by."
Mr Cameron has identified about 100 writers from about 1600 documents and, as the centenary of the landing at Gallipoli in 2015 approaches, hopes to identify the remaining soldiers. He estimated there were still 500 to identify.
The postcards were challenging because they usually had only first names.
"It's my contribution to humanity. It's a labour of love. It's something people can refer to ... It might not be much but it might help people feel like they've had a catch-up with long-lost rellies."
Mr Cameron has set up a blog,
RobertCameron.wordpress.com
, where he plans to post his findings and the soldiers' missives as a resource for their families.
Mr Cameron's interest was sparked when he bought a suitcase of letters and postcards written by a Wellington youth, Gunner Leslie Gower, killed in Cape Helles on the Gallipoli Peninsula.
"[It was] very sad no-one had maintained his memory."
He expanded his research to other letters from the soldier's unit, then to letters from soldiers in other units.
The letters tell of soldiers being homesick, and talk about their fellow soldiers.
"It's quite sad when you read, `I'm in a safe place, I've been very lucky' and then look at his file and find he died three days later."
www.stuff.co.nz/dominion-post/news/5275443/World-War-I-soldiers-regain-voices