Post by kiwithrottlejockey on Sept 17, 2012 13:05:58 GMT 12
NZDF staff get payrise, and rent hikeBy DANYA LEVY - The Dominion Post | 12:37PM - Monday, 17 September 2012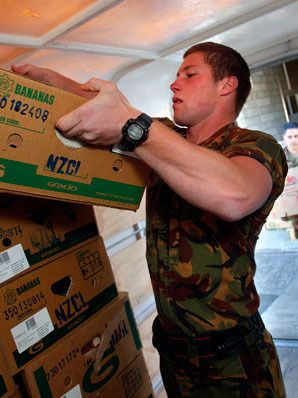 NZDF personnel are to get their first payrise in
four years, but some will also face rent hikes.
— WARWICK SMITH/Fairfax NZ.D
EFENCE FORCE personnel are to get their first payrise in four years, but many will also face rent hikes.
About $45 million has been allocated for troops, reserves and civilian staff, and an additional $40m has been set aside for one-off buy-back of entitlements and conditions of service which are being phased out.
Also announced today is a rent adjustment later in the year for troops living in defence force housing and barracks to align them to market rates.
Defence Force Chief Lieutenant General Rhys Jones said the pay rise was an opportunity for the Defence Force to reinvest some of the savings it had made in the past three years.
"This was always one of the promised rewards of finding efficiencies - reinvesting in our frontline, which is our people."
Jones said the rent adjustments would remove the rent advantage people living in Service housing had compared with those living off base.
The Defence Force saved $142m in the past financial year as part of a drive to save up to $400m by 2015.
It led to the forced civilianisation of 304 uniformed roles and saw morale plummet to its lowest levels with a record high 19 per cent attrition rate.
Defence Force Vice-Chief, Rear Admiral Jack Steer, announced in March the further civilianisation of 300 roles would be through natural attrition because personnel were suffering "change fatigue" and the process had been "too damaging".
Defence Force numbers have fallen from 14,577 to 13,667 in the past two years and the navy's in-shore patrol vessels are having few days at sea because there are fewer sailors.
Jones today said the pay rise wasn't across the board.
"The remuneration system used within the Defence Force is more complex than that and instead links every position to published market rates."
The changes brought all Defence Force pay up to the average of 2012 market rates, he said.
"The total remuneration of those already above the mid-point is being protected."
There was also an increase for both regular and reserve force troops for what was known as the "military factor", which was an allowance paid to uniformed personnel in recognition of the hardships associated with military life such as often being separated from family and being on call 24-hours a day, seven days a week.
"This compensates for the removal of some current leave and allowance entitlements that will cease. For other entitlements ceasing, choices are being offered in the form of buy-backs or buy-outs of existing entitlements."
www.stuff.co.nz/dominion-post/news/7690047/NZDF-staff-get-payrise-and-rent-hike