Post by Peter Lewis on Sept 25, 2011 15:41:20 GMT 12
By the mid-1950s New Zealand was running out of DC-3s. When the National Airways Corporation needed more capacity it had to turn to Australia for its requirements. Therefore in 1955 they bought two DC-3s from Australian National Airlines and refitted them at Christchurch.
VH-ANU had served with the USAAF in the Philippines as a C-47A-25-DK carrying the serial 42-93592 from 6Jun1944. At the wars end it was sold to Australian National Airlines and ferried from Manila to Melbourne. Converted into a freighter configuration it served with ANA in this role until sold to NAC on 13Jun1955 when it had flown 22,866hrs.
Arriving in NZ on 14Jun1955 the registration ZK-BKD was issued on the 26th. Fitted out at Christchurch as a passenger aircraft it was named
Kotare
on entering service in October 1956.
ZK-BKD on-line at Paraparaumu January 1957
Loading at Paraparaumu May 1959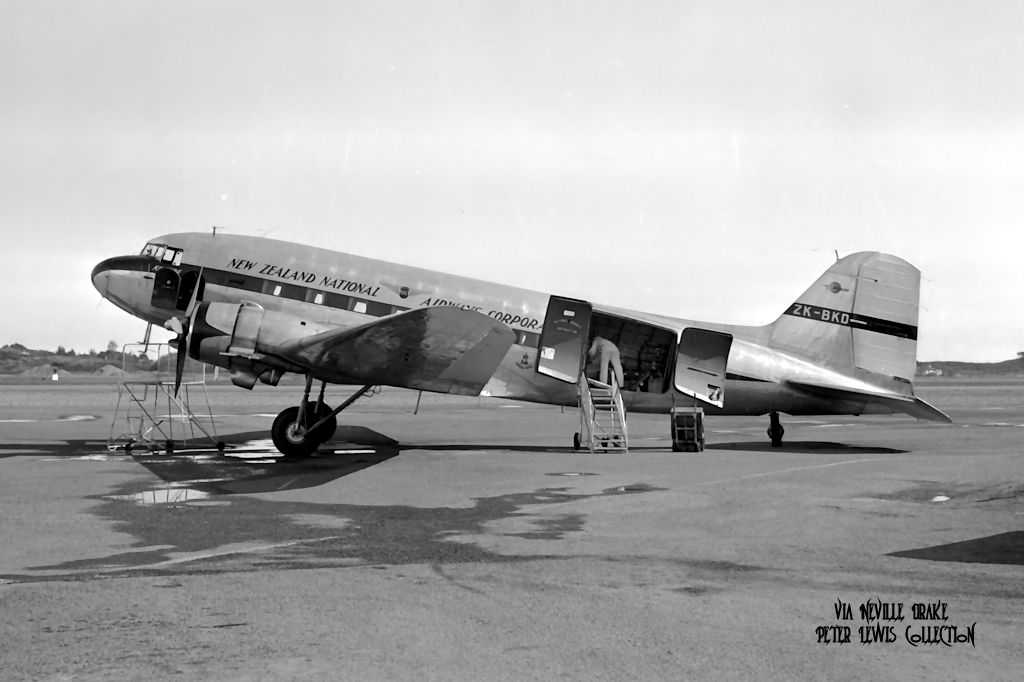 ZK-BKD 'Kotare' at Whenuapai, late 1950s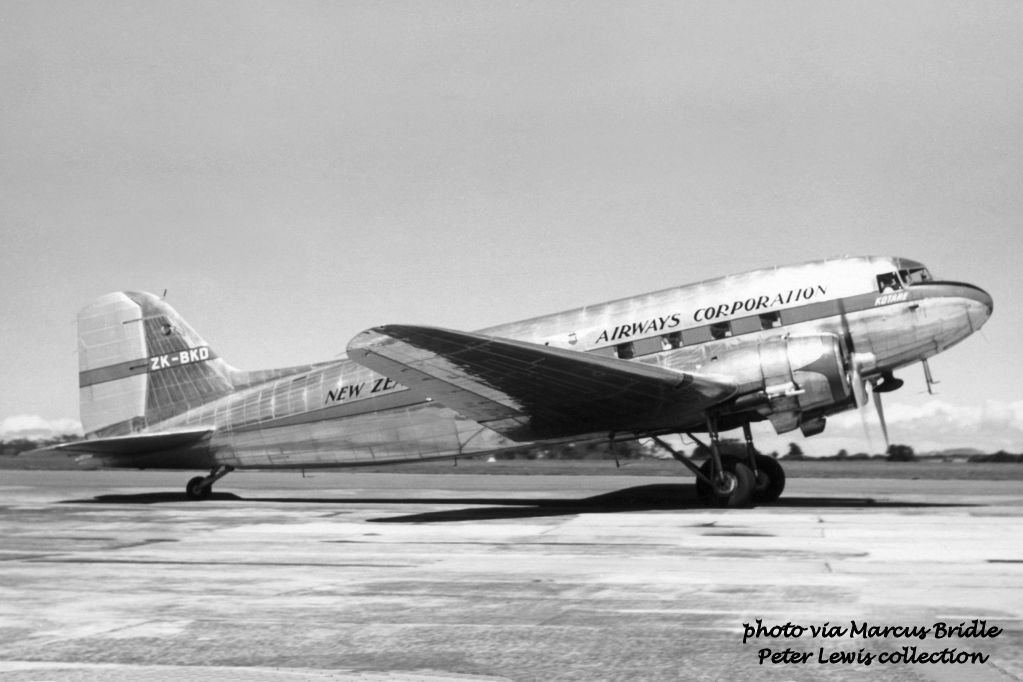 Meanwhile, Harry Wigley at the Mount Cook and Southern Lakes Tourist Company had been operating light aircraft on tourist flights for some years but had bigger plans. He therefore arranged to lease a DC-3 from NAC and ZK-BKD was the chosen aircraft. Repainted into a Mt Cook scheme, Mt Cook Air Services Ltd. of Timaru took over the aircraft from 25Oct1961 and the first Mt Cook DC-3 scheduled service was from Christchurch into Mount Cook airfield on the 1st November.
ZK-BKD in Mt Cook colours. Des White photo via S Lowe
Although ZK-BKD did not undergo the full NAC Skyliner upgrade, it was fitted with the larger windows.

Mt Cook ventures north to Rongotai, late 1960s
In 1970 ZK-BKD was returned to NAC and was replaced at Mt Cook by Skyliner ZK-BEU.
Re-registered to NZ National Airways Corp. on 30Jun1970, ZK-BKD was soon sold to Fieldair, converted to the agricultural role, and initially operated as part of their contribution to Airland before reverting back to sole Fieldair ownership.
ZK-BKD at Masterton early 1982
ZK-BKD at Wairoa October 1982
Although current to Fieldair until 1October1987, ZK-BKD was retired from flying on23Jan1983 having flown 51,277hrs.
Plans to have it as a museum item at Milson fell through in mid-1985, and ownership passed to Hamish Ross who shifted the aircraft to Rotorua intending to incorporate it into his museum.
ZK-BKD at Rotorua late-1980s. Phil Treweek photo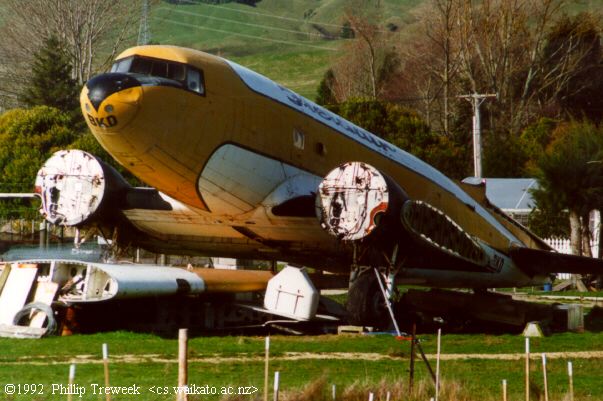 After Hamish Ross was killed the museum idea faded and ZK-BKD was shifted (again) to Gisborne in 1992 where it became the star attraction at the
Smash Palace
wine bar in suburban Gisborne
I visited the bar at Gisborne about 12 years ago. At that time the place was quite neat, and there were stairs leading up to the Dakota. The interior had been stripped out, and there was a long table fixed to and running down the starboard side of the fuselage inside with bar stools adjacent. You could comfortably sit there and discuss past present and future.
Another visit in January 2009 revealed a different story. The whole place had a run down look, the stairs up to the Dakota had been removed and the aircraft was inaccessible. I managed a quick peek through a window, and the inside of the aircraft was just a rubbish dump. Vegetation was growing up around it as these photos show. Sad.

ZK-BKD Gisborne Jan2009