Post by Peter Lewis on Oct 2, 2011 17:04:16 GMT 12
The third DC-3 for SPANZ arrived in New Zealand at Whenuapai on 23rd October 1961.
This aircraft had started life with the USAAF as a C-47A-65-DL in October 1943 and reached Australia in December. It served with both the RAAF and the USAAF and finished the war in the Philippines.
Bought by Australian National Airways, it became VH-ANM in February 1947, and served with ANA, Queensland Airlines and Butler Air Transport. With Butlers it became one of the first DC-3s in Australia to be upgraded to
Viewmaster
status. It then went to Ansett in 1958 when Butlers were bought out, and was used by their subsidiary Airlines of New South Wales. Just prior to the aircraft's departure to New Zealand, it was fitted with a set of drop-down airstairs, a first for a New Zealand aircraft.
ZK-CAW at Melbourne in the early SPANZ livery, just prior to departure for New Zealand. Ed Coates photo.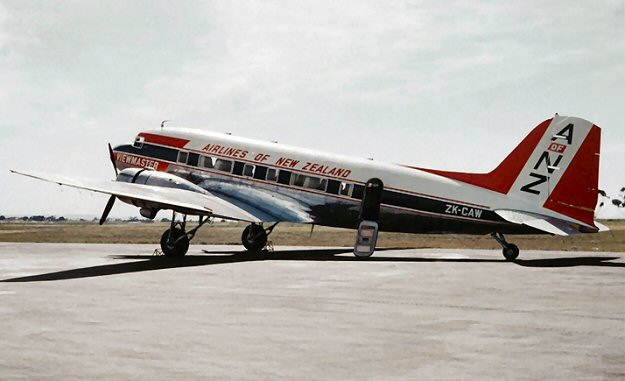 ZK-CAW departing Rongotai December 1963. The competition, in the form of an NAC Viscount, in the background.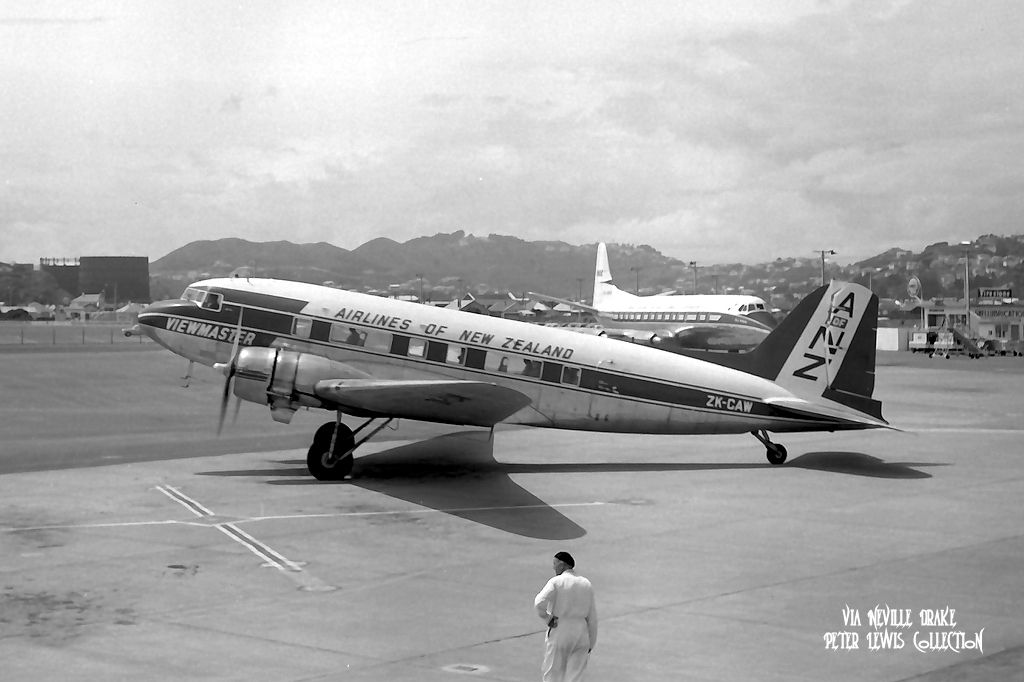 ZK-CAW in the SPANZ parking area at Whenuapai February 1963.
The fitted airstairs are clearly visible.
Rongotai October 1963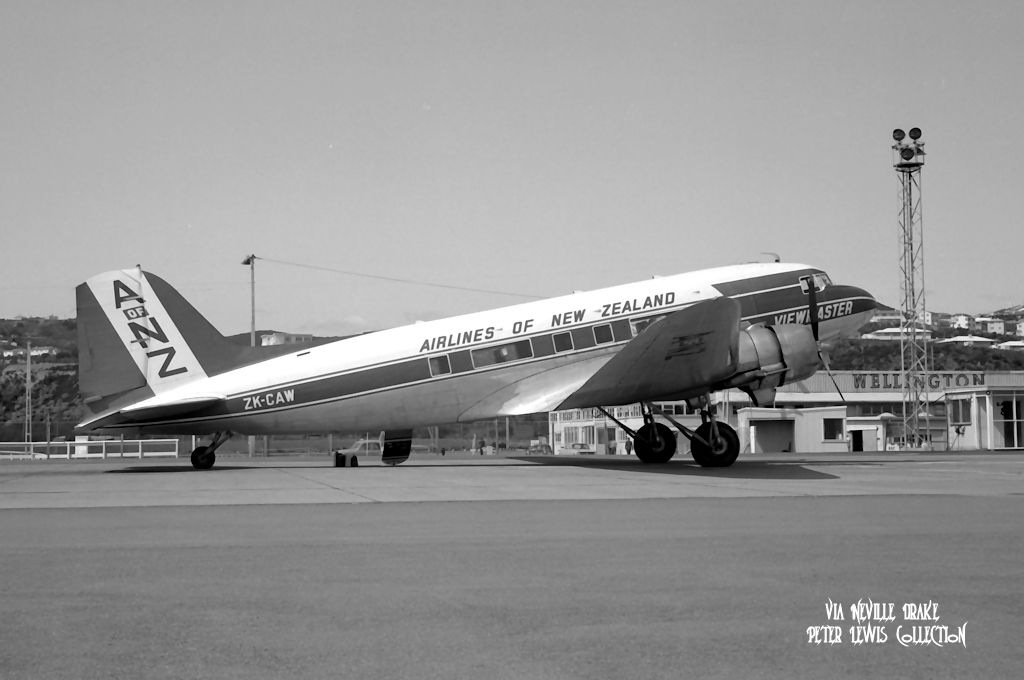 and December 1963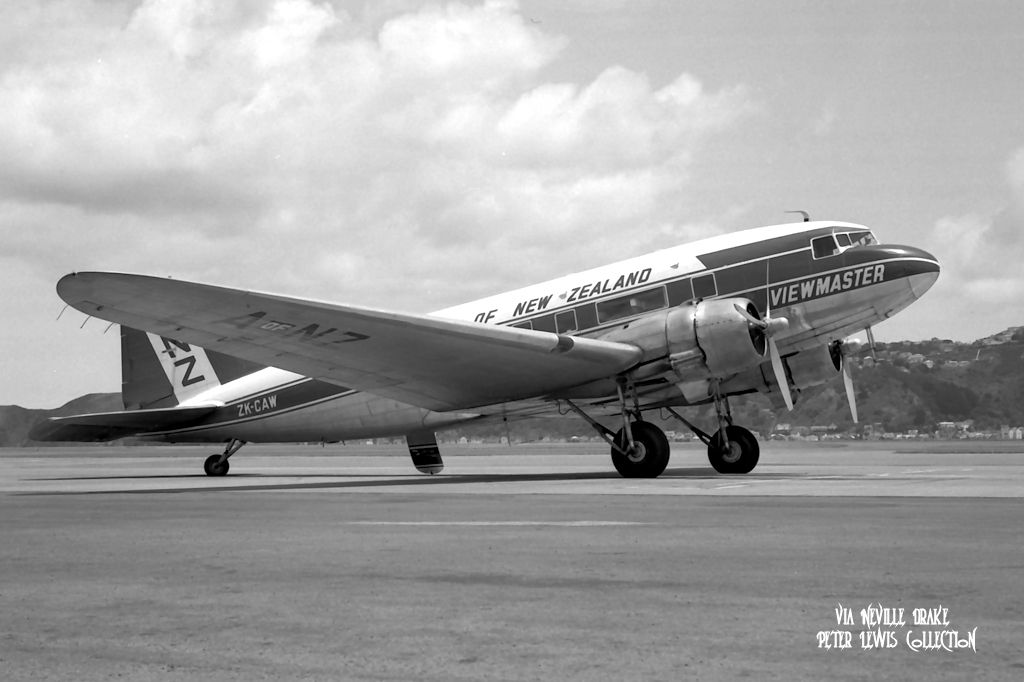 ZK-CAW at Whenuapai 2Feb1964. Apparently undergoing its repaint exercise into the updated livery. The 'George Bolt' name is missing and the tail logo is not yet complete.
Repaint complete, ZK-CAW at Rongotai later the same month
Some time after its arrival in New Zealand, ZK-CAW acquired the name George Bolt. When the aircraft underwent a major overhaul with NAC at Christchurch in August 1965 a standard DC-3 door was fitted. The door was replaced after it fell open at Alexandra in a similar fashion to that of 5W-FAB. Fortunately the situation did not have quite the same serious outcome.
When SPANZ ceased flying on 28Feb1966 ZK-CAW had flown 44,910hrs. ZK-CAW was then bought from the receivers by NAC and repainted in their standard colours, but without any reference to
Skyliner
or
Viewmaster
, although it did retain the name
George Bolt
. I think that this was the only NAC aircraft ever to be named after an individual.

ZK-CAW with NAC at Wanganui 1966
Fiji Airways then leased this aircraft, operating it as VQ-FAI from June 1966 to August 1969
VQ-FAI in Fiji Airways livery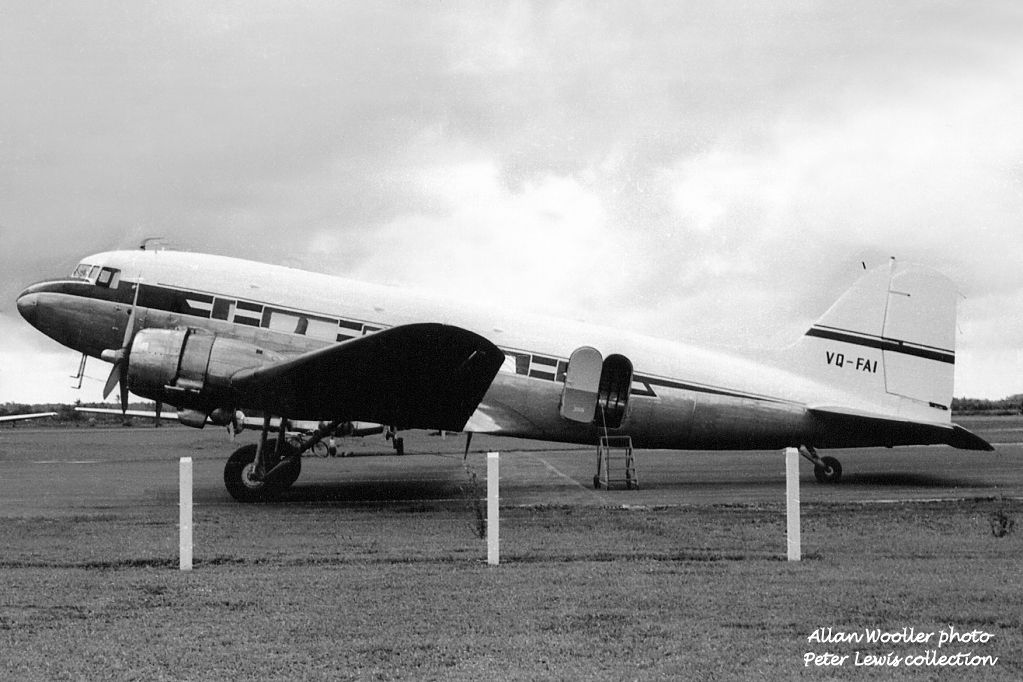 Returning to New Zealand, the DC-3 again became ZK-CAW with NAC on 5Aug1969 but was then immediately leased to Mt Cook Airlines to cover for maintenance on ZK-AOD. It was repainted into Mt Cook colours at that time.
ZK-CAW at Christchurch during its time with Mt Cook Airlines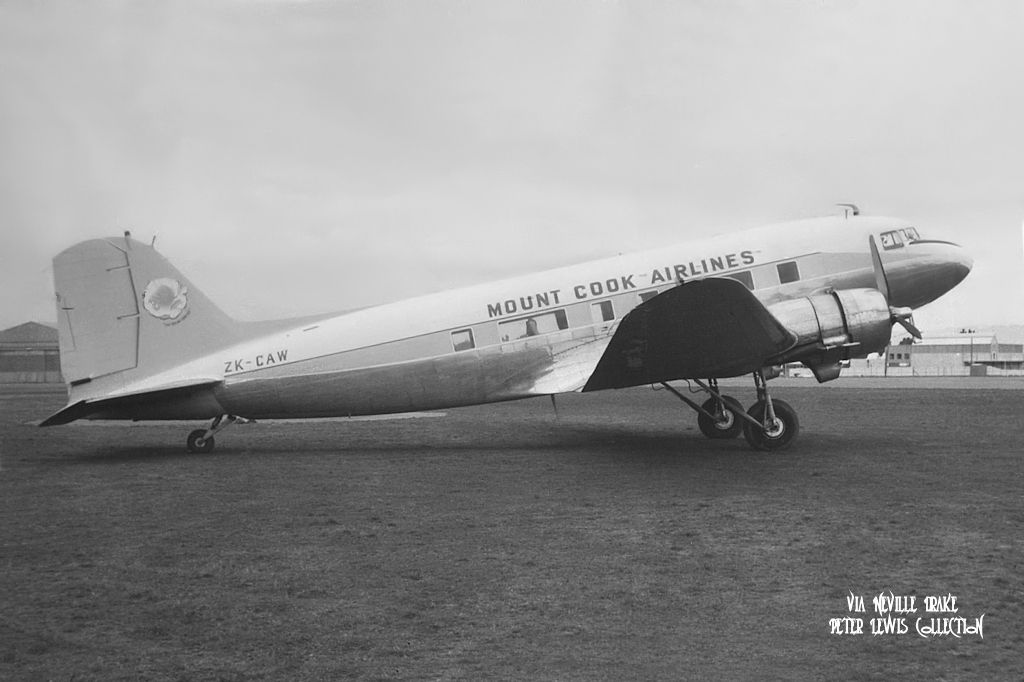 Returning at the end of the lease, ZK-CAW was stored at Christchurch
ZK-CAW looking a bit bedraggled, with a couple of jokers pushing it away into a corner at Christchurch
Taken over by charter airline startup South Seas Airways Ltd. of Auckland in early May 1971, ZK-CAW was repainted in their colours. However the operation never commenced due to licensing difficulties.
ZK-CAW at Milson in South Seas Airways colours.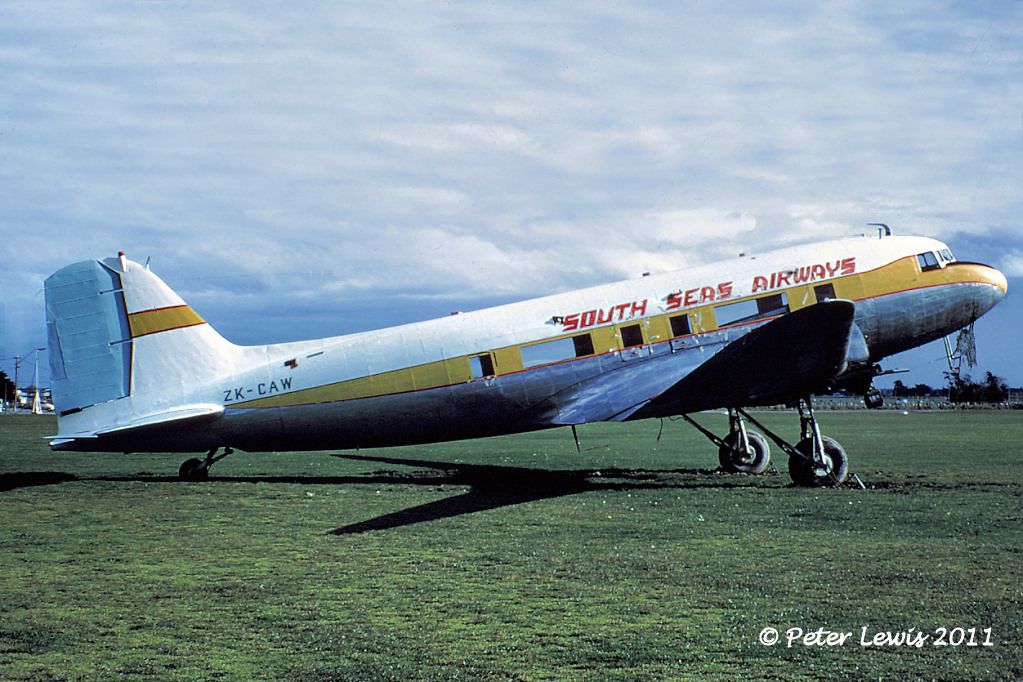 Passing then to Fieldair later in May 1971, ZK-CAW started work in the ag role on 22Nov1972.
ZK-CAW as an AgDak at the Oringi strip 1Jul1976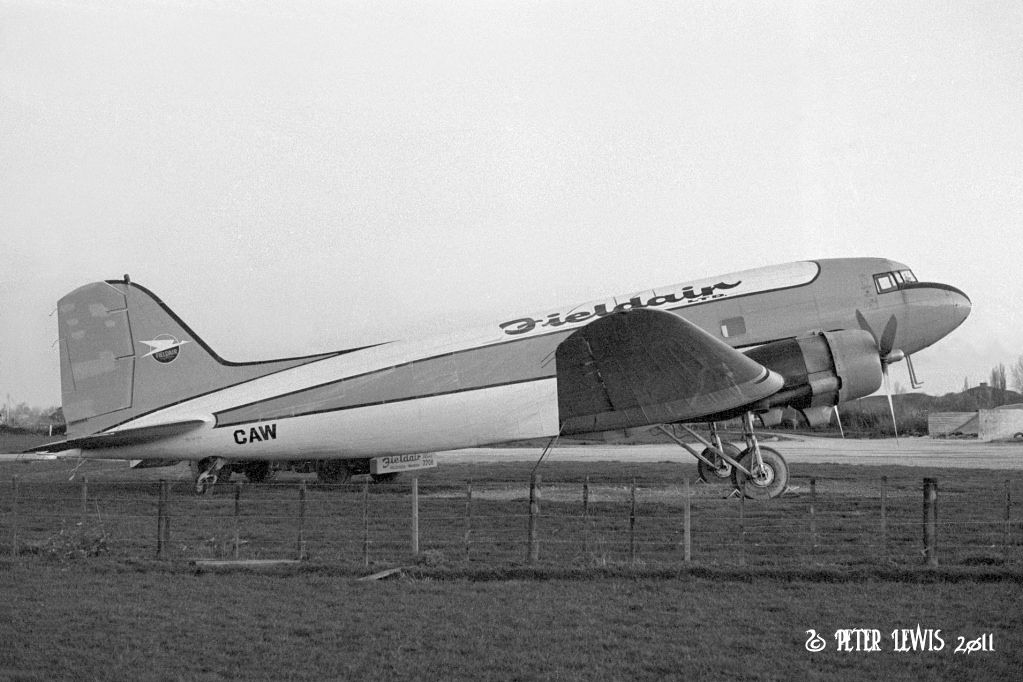 and during the early 1980s
Ownership changed to Fieldair Holdings (Central) Ltd. on 18Nov1980 and to Fieldair Holdings Ltd. on 30Mar1984. The aircraft was retired on 29Oct1984 @ 56282hrs and stored at Palmerston North until sold to R J Harding, Wanganui on 28Mar1985.
Plans to restore to an airworthy status fell through, and the registration was cancelled on 10Jul1990.
Ownership passed to a Taupo-based car dealer who, after some restoration work was carried out, placed it on the boundary of his Taupo car yard alongside a McDonalds restaurant later in 1990.
Since then, the aircraft (and McDonalds) has moved further down the same street towards the lakefront and the DC-3 is now used as an extension to the McDonalds and is painted in their colours.
At Taupo, 8Jan2010