Post by nuuumannn on Jun 22, 2014 22:18:02 GMT 12
Since I was not able to find any thread on the displays in the excellent RNZN Museum in this forum, Here are some pictures of some of the things on display within. I was also surprised to read that there were forum members who were unaware there was a navy museum in New Zealand. The museum is well worth going along for a visit and the cafe is superb, with a terrific view over the harbour. Here is a link to the museum's website:
www.navymuseum.co.nz/
Previously located in a small building at Spring Street near the entrance to HMNZS Philomel, or Devonport Naval base, the museum has since moved to Torpedo Bay, which has a significant history in itself. Here's a link to the navy museum's website with more information - saves me copying what's already written:
www.navymuseum.co.nz/about-us
The pictures here were taken both at the Spring Street location and at Torpedo Bay. In the entrance to the foyer of the museum is a memorial to HMS Neptune, with a nice model adorned with 150 sea men around her deck. these, of course represent those who lost their lives aboard the ship. The model:
A painting of a spar torpedo boat in action - a rather hazardous means of attacking an enemy vessel. Because of the Russian 'scare' earlier in the decade of the 1880s, four of these were constructed by John I. Thornycroft in 1883 for harbour defence and stationed at Lyttelton, Port Chalmers, Auckland and Wellington and were numbered consecutively as No.168 to 171. Their primary weapon was the spar fitted with explosive at its tip, hence its name, although the last two were equipped with Whitehead locomotive torpedoes. Obsolete by the time they reached New Zealand, the boats couldn't handle anything but a calm sea state owing to their shallow draught and were retired in 1901 - 1902. The remains of the Lyttelton boat are on display in the old magazine on the Lyttelton foreshore.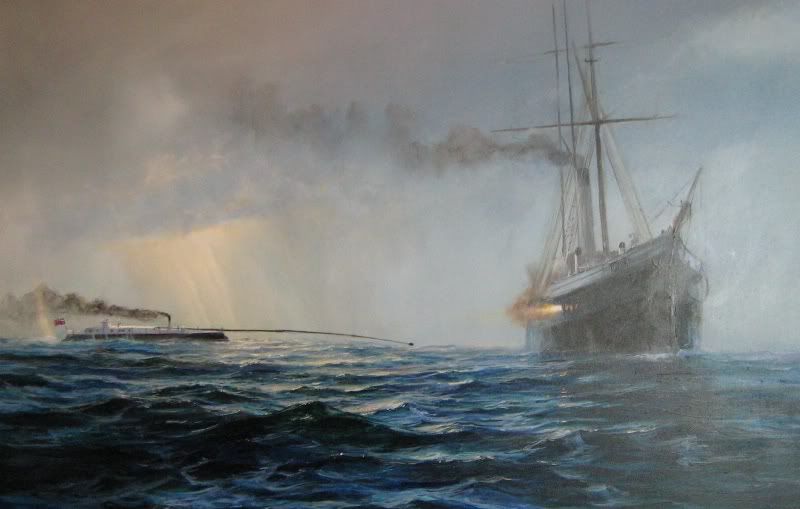 The 3rd Class light cruiser HMS Philomel was lent to New Zealand in 1913 as a training vessel to form the fledgling New Zealand Division. Active during WW1, the ship escorted troop vessels to German held Samoa and later one of the Anzac convoys to Egypt. She saw active service in the Eastern Mediterranean against the Turks before returning to New Zealand in 1917 and owing to her obsolescence, she was disarmed and led the rest of her life as a depot vessel, then a full time accommodation hulk with makeshift huts constructed on her deck. She was towed out off Cuvier Island and sunk in 1946.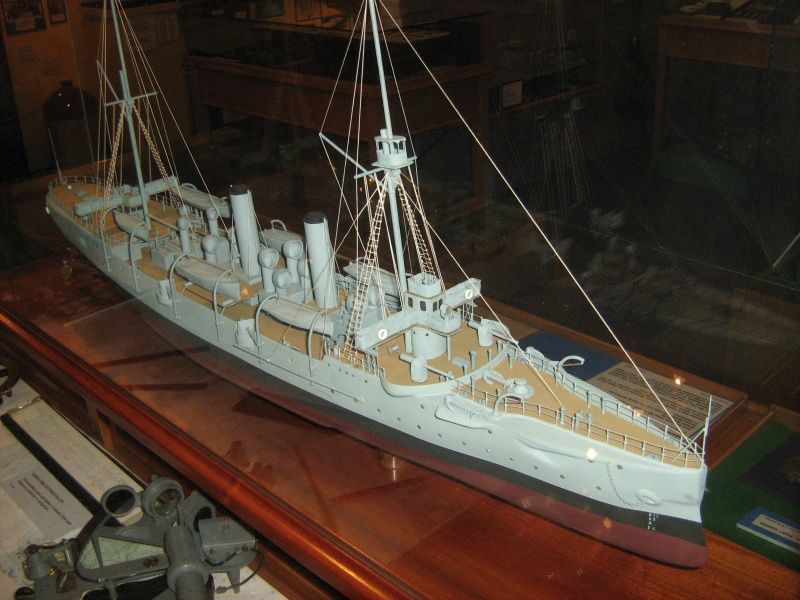 By far the largest and most powerfully armed naval vessel to have been borne from our coffers, HMS New Zealand was an Indefatigable Class battlecruiser armed with eight 12-inch guns in four turrets. Paid for by the Dominion, she was handed over for service in the Royal Navy on completion and visited New Zealand only twice, once in 1913 and again post war in 1919, where it is believed that, based on the numbers of visitors that went aboard at the ports she stopped in, around half the population got to see her. A flawed vessel because of the typical weaknesses of the class of ship, New Zealand served with the 1st Battlecruiser Squadron under Vice Admiral David Beatty during the first half of WW1 and saw much action with battle honours at Heligoland Bight, Dogger Bank and Jutland. As a direct result of the Washington naval arms limitation treaty of 1922, she was sold and scrapped a year later. Her 4-inch guns came to New Zealand and served as coastal batteries at Fort Dorset and Godley Head. Two of them survive outside the Auckland War Memorial Museum.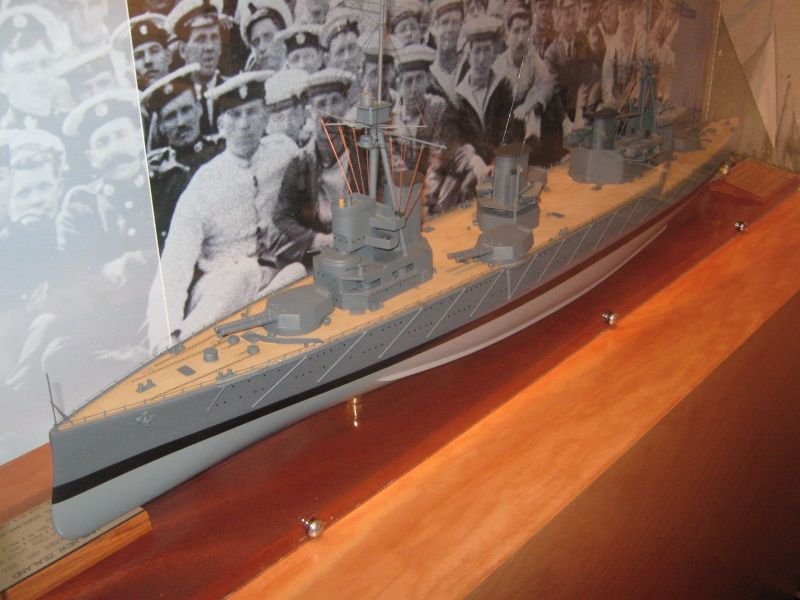 The museum holds a significant amount of ephemera related to the New Zealand, including furniture and silverware that she carried aboard, as well as her deck name plate and ship's bell: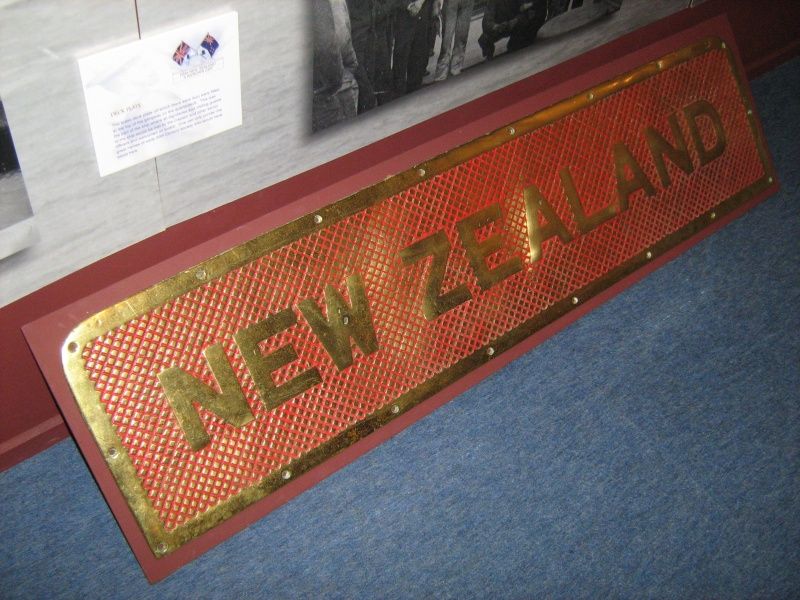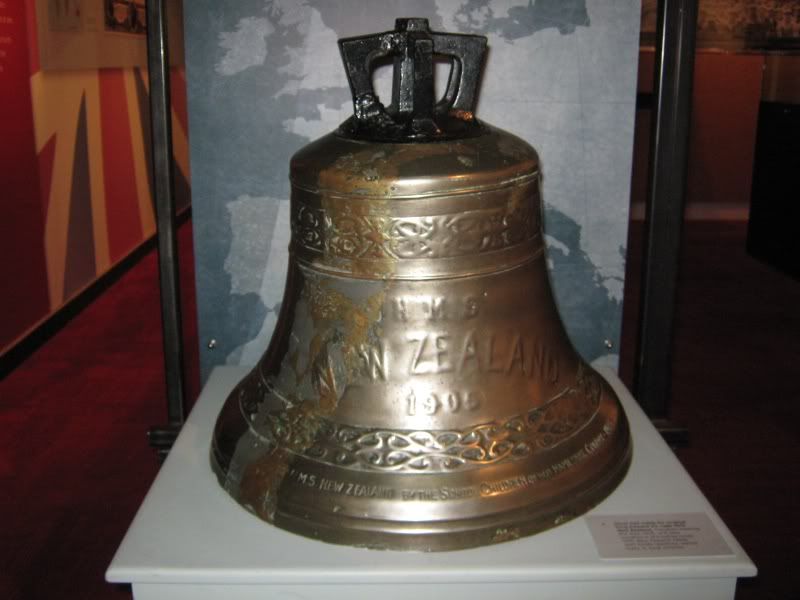 A painting depicting the ship in her home waters of the Firth of Forth, north of Edinburgh, Scotland where she was based at Rosyth. The enormous Forth rail bridge can be seen behind.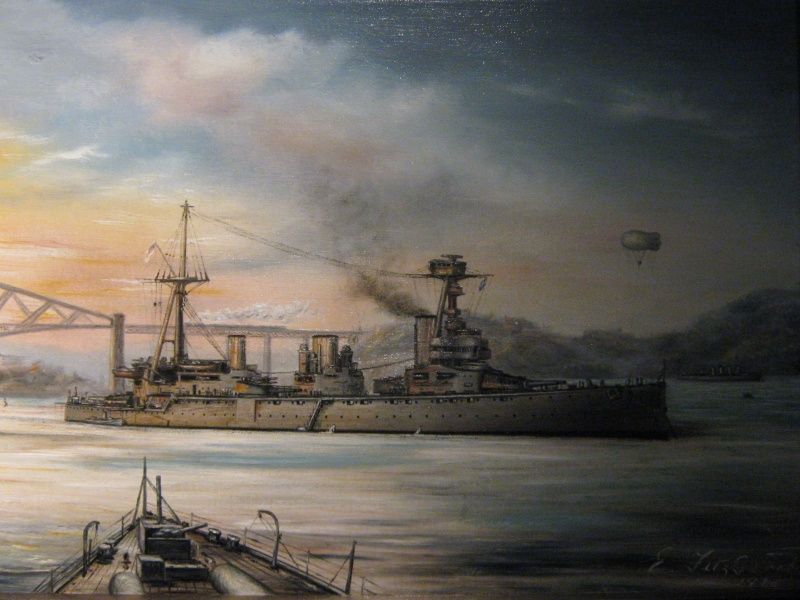 More to come.