Post by Dave Homewood on Jul 9, 2014 13:53:08 GMT 12
Naval officer in dramatic high seas rescue
12:57 PM Wednesday Jul 9, 2014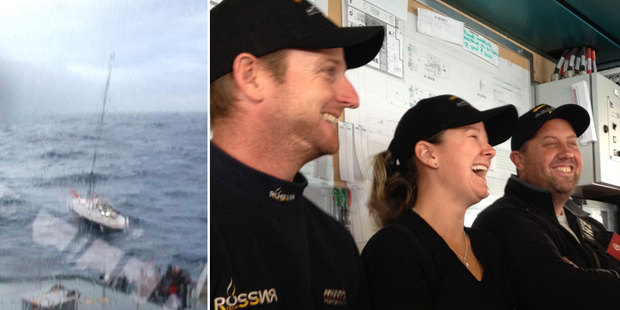 The rescued yachties aboard the HMNZS Otago. Left, their yacht bobs on the water as the Navy ship approaches. Photo / NZ Navy, NZ Herald
Tears came to Navy Lieutenant Simon Wasley's eyes today when he was asked how he felt about being called a hero after diving into treacherous seas to rescue three people from a stricken yacht.
"It makes me fairly uncomfortable," he said.
But the three people he saved felt differently, saying they would certainly call him a hero - "just not to his face".
Read more: Incredible rescue from raging river
Experienced sailors Ben Costello, Rebekka Hielkema and Andrew Cooke were plucked out of the water after Lieutenant Wasley dived in with a rescue line.
The trio were individually winched to safety on board the Royal New Zealand Navy patrol vessel HMNZS Otago.
They had been transferring the 11-metre yacht Django II from Fiji to New Zealand when the rudder was broken by a rogue wave in high seas around 170 nautical miles north of North Cape.
The crew were ready to abandon ship.
The Royal New Zealand Navy patrol vessel HMNZS Otago was one of two boats asked to assist in the rescue.
It and the log carrier Laura Bulker reached Django II about 5.30pm.
MNZ spokesman Neville Blakemore told Radio New Zealand there were "extremely high seas", with waves reaching 5m.
It was very difficult for the yacht to come alongside the Otago, he said.
"So they determined that the best bet was to get the people to get into their liferaft, which was connected by a rope to the warship and the crew of the warship then pulled them over to the warship.
"Just as they got there the first time, due to the sea conditions the warship rolled violently and the crew thought that they were going to get crushed by the warship so they cut the rope and a sailor dived in to attach another rope - swam to the life raft and reconnected it all."
It was "quite risky", but the rescuer would have been a highly trained ship diver, Mr Blakemore said.
Lieutenant Wasley was "the best looking man I've seen for a while", said Ms Hielkema, laughing as she described seeing him reach their liferaft last night.
"It was fantastic to see the face of someone who looked very capable of saving us," she said.
Despite the trio being very well prepared, they were glad to be rescued when the Otago arrived around two hours earlier than expected.
They had grab bags with all their essentials - including Milo bars and lollies - and were wearing wet-weather gear and lifejackets. They passed their time waiting to be rescued by briefing each other on what they should do in different types of rescue situations, she said.
The plan was to stay in the yacht, which was now letting in water, for as long as they could, before being advised by the Navy to move into their liferaft.
"It's a tiny inflatable bouncy castle in 60 knots of breeze, so it's not really an ideal situation," said Ms Hielkema.
"We were very reluctant to get into the liferaft."
The first attempt to get draw them in on a rescue line failed, when, with the Navy vessel lurching in four-metre swells, they felt it too dangerous to hold on. The decision to send a diver was then made.
As a former Navy diver, Lieutenant Wasley was the most experienced swimmer on board, volunteering to take on the daunting task.
He admitted it was a scary situation.
"Anyone who wouldn't be scared in that situation doesn't know the risks," he said.
The trio were brought into Auckland this morning, where they were reunited with their families at Devonport Naval Base.
- APNZ
www.nzherald.co.nz/nz/news/article.cfm?c_id=1&objectid=11290328