Post by nuuumannn on Apr 29, 2015 4:19:33 GMT 12
Well, some might say it's a Nord N.1002 Pingouin II as it was built in France, but I have been reliably informed that this particular aircraft was first constructed by Messerschmitt in Germany in June 1944, the date 6th August is associated with it, but I'm not sure whether this is its roll out date or first flight or what. It saw Luftwaffe service, was damaged at some stage, a crash perhaps, then it went to France, where it was rebuilt there and completed in March 1945. In France it was designated as a Nord 1000, Construction Number 107 but after a second crash was refurbished again and assigned C/n 103 as a Nord 1002 Pingouin II. Some time during the war it was shot down over Belgium, where it was captured there by the Allies in June 1945. All this, of course, despite being rebuilt in France twice, does make it a Bf 108 Taifun with considerable pedigree - a genuine World War Two 'Warbird', as its owner stated to me.
In 1961 it received the registration OO-NET on 25 October, which was cancelled on 24 September 1973, when it was de-registered before being shipped to the United States, where it was registered N108H. In 1984 it was heavily modified by Piper Aircraft Ltd in Florida and was fitted with a 300 hp Lycoming IO-540 flat six in an entirely new nose, propane 'machine guns' in the wings and nose and a new canopy in an attempt to configure it to resemble a Bf 109 (this, of course failed as it doesn't look anything like a Bf 109, except, somewhat ironically, aft of the canopy!). In the States it was painted as a freak-accident-in-a-spray-booth, further detracting from its resemblance of a German WW2 fighter, see here:
Aircraft N108H (Nord 1002 Pingouin II C/N 103) Photo by John Hevesi (Photo ID: AC740381)
This is as OO-NET in Belgium:
Aircraft OO-NET (Nord 1002 Pingouin II C/N 103) Photo by Hugo Teugels - Aviation Society Antwerp (Photo ID: AC868343)
Its engine came from a pre-production test bed Piper Malibu. On 23 March 1989, the aircraft was sold to Claus van der Walt in South Africa, where it was registered ZS-WFI. Seven years later it was sold to its owner in New Zealand and was registered ZK-WFI.
The changes to the original Bf 108 appearance are plainly obvious in this side view. The exhaust is ducted out of the port, which is one piece rather than individual stacks on the lower nose.
In a rear view its original lines become more obvious; the Bf 108 was a very attractive little aeroplane.
The IO-540 has dramatically altered the nasal profile of the original; Bf 108s were fitted with either a 210 hp Argus As 17 or 225 hp Hirth HM 8U inverted vee eight engines. In France the Nord was fitted with a Renault 6Q-10 inverted vee eight. Propellers were usually two-bladed; on the Bf 108A a wooden fixed pitch unit and on the Bf 108 Taifun, either a two-blade fixed pitch or controllable pitch metal unit.
The characteristic Messerschmitt leading edge slat application gave the Bf 109 pilots headaches in combat, but for the more sedate Bf 108 gave it excellent flying qualities, improving its short field performance and lowering its stall speed.
The slats popped out automatically and did not have any sort of control in the cockpit; you can pull them out of the wing by hand. They would pop out assymetrically in flight at high bank angles. Evidence of its gaudy US applied colour scheme can be seen on the rear of the slat.
Very graceful wing to fuselage fairing, with non-slip stripe for access. I was warned about damaging the flaps when getting on to the wing.
The empennage is all Messerschmitt, with its hori stab bracing strut and horn balanced elevator.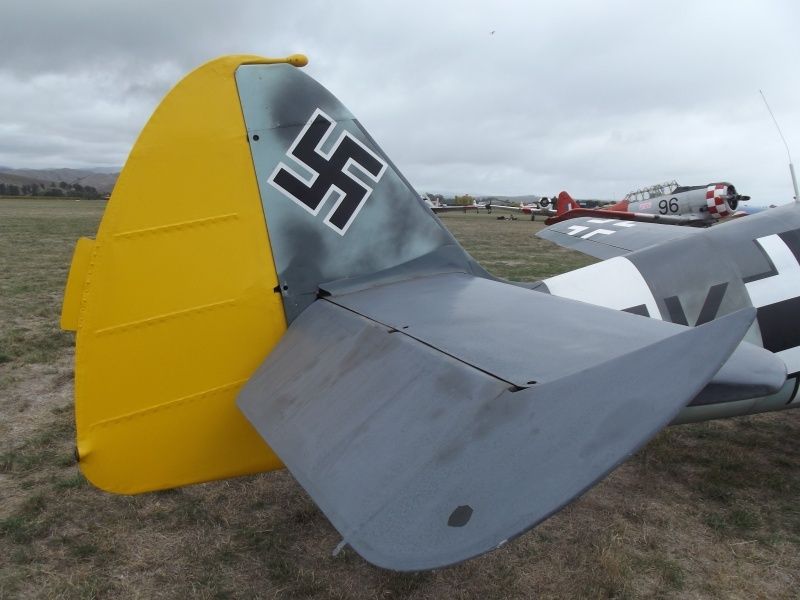 Top view of the fabric covered elevator; note the absence of trim tab, but prominent ground adjustable tab on the rudder.