Post by Dave Homewood on Jul 23, 2015 20:42:33 GMT 12
Dannevirke: What happened to missing pilot?
By Christine McKay - Hawkes Bay Today
7:00 PM Thursday Jul 23, 2015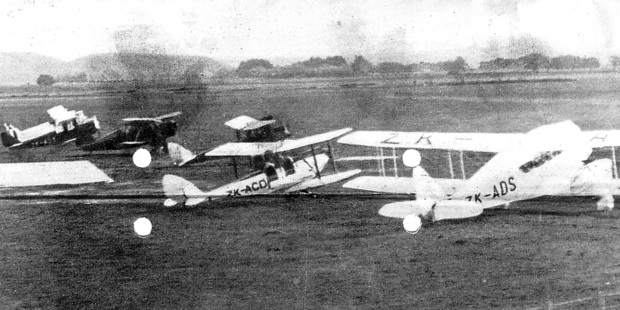 Aircraft taking part in the search for Akitio's Hamish Armstrong prepare to leave the aerodrome at Hastings. At times, more than a dozen planes were in the air searching various localities. Photo / File
Akitio pilot Hamish Armstrong's mysterious disappearance on a flight to Hastings in July, 1935, troubled one of his friends until the day he died.
Genevra (Sue) Avery's father, Pat Barker, and Mr Armstrong were fellow aviators and great mates. In fact, Mr Armstrong was her godfather.
"Hamish had been a groomsman at my parents' wedding and I was just a baby when his plane went down in the Ruahine Ranges," said Mrs Avery, who lives in Waipukurau.
She told the Dannevirke News her father spent hours searching for the missing pilot.
"It really consumed him and he never got over it," she said. "The story of Hamish and the search has always stayed with me and until my father's death in 1955 he always worried about the fate of his friend.
"But he did tell me that when the plane was discovered there were marks in the snow where someone had crawled away. I have no way of verifying this now my father has died, but he also said there was also blood on the snow.
"My father's theory was that Hamish had been eaten by wild pigs. I know this is a grisly thought, but people don't just vanish ... "
And it's a theory Dannevirke's Ken Mills has heard too, as has Mr Armstrong's relative, Guy Hunter.
Mr Mills said his father and Mr Armstrong were great cobbers and the Akitio pilot had an emergency plan.
"Hamish had told my father if he was ever in trouble in the air, he'd undo his straps and throw himself on to the wing of the plane," Mr Mills said. "We presume he'd undone his straps that day in July 1935 and when the plane went down he was thrown out."
The Gypsy Moth was found on August 4, 10 days after the search began, but the body was never located.
It upset searchers to realise Mr Armstrong, an experienced climber, had failed to find the nearby Sunrise Track.
The Gypsy Moth was dismantled and pack-horsed off the Ruahine Range.
www.nzherald.co.nz/nz/news/article.cfm?c_id=1&objectid=11485748