Post by Dave Homewood on Jun 11, 2006 21:32:21 GMT 12
I spent quite a remarkable afternoon today at St Andrews Church here in Cambridge.
The church is quite a beautiful place, and this photo taken on this gloomy wnters day does not do it justice.
It is certainly a well known landmark, as it is on a corner of State Highway One, the main arterial route through the country, so everyone passes it eventually. It is not just a parish church, but also a beautiful war memorial with stunning stain glass windows depicting NZ soldiers at Gallipoli and Le Quesnoy. You can see photos of the windows on my website. The place almost makes you want to become religious, almost...
Anyway, after an interesting ceremony which included speeches from dignatories, three plaques were unveiled in the French Garden outside the church. One has a WWII connection and the other two WWI.
Here are some photos I took today. As I was inside a church during the service I chose not to use the flash, so the first ones are not great sadly.
Mayor Alan Livingstone starting proceedings.
The French Ambassador to NZ Jean-Michel Marlaud talking about the special relationship between NZ and France, and between Cambridge and sister-town Le Quesnoy, which was the site of the last WWI battle where NZ troops climbed over the walls to take the town rather than let it and the French people inside be bombarded by artillery. They have never forgotten the sacrifice the NZ'ers made in that battle, one week before Armistace, where 93 young NZ'ers were killed.
Cambridge's ex-Vicar Noel Derbyshire returned to officiate this ceremony because one of the plaques is dedicated to a special FGrench Garden he was responsible for creating.Regular vicar Geoff Crawshaw also took part in the service, which is great because he does these things so well. He usually runs the ceremony on Armistace Days too. This one if Rev. Derbyshire
After an hour or so of very interesting speeches, we adjourned out to the garden where first the garden plaque was unveiled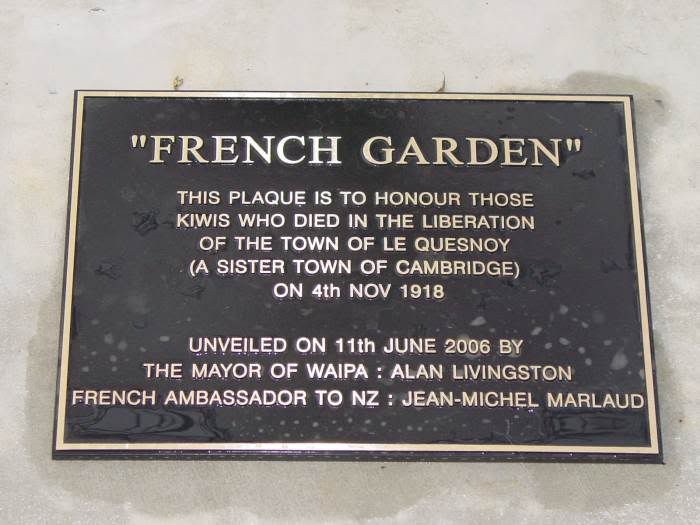 Then, more personal to me, my friend John 'Jack' Morris, a WWII RNZAF bomber pilot from Cambridge, unveiled a plaque to mark the heroism of a French couple who saved his life and helped him to escape from the Germans back to Britain when he was shot down in 1944 (the first of two times he was shot down!).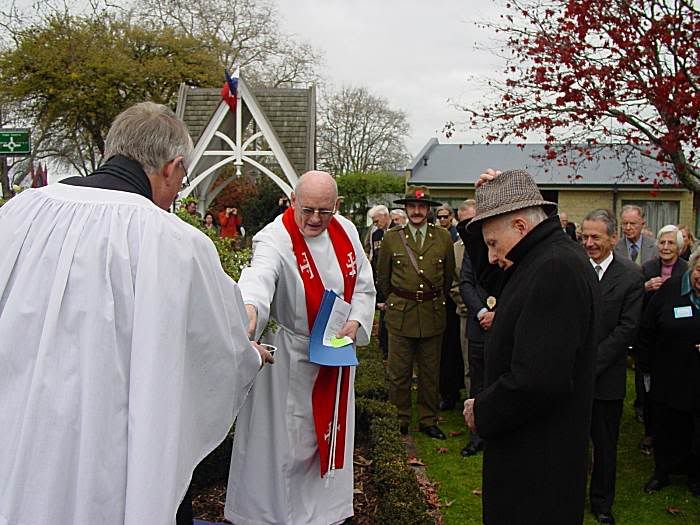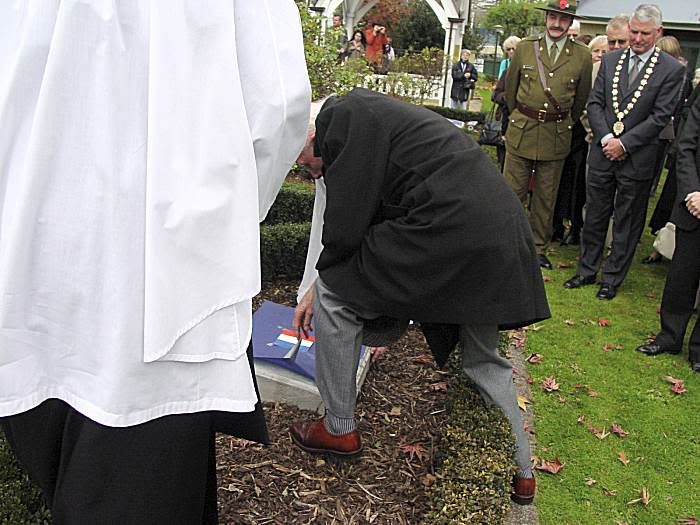 You can read about Jack's story on my website here
www.cambridgeairforce.org.nz/John%20Moore%20MORRIS.htm
Then the third part of the ceremony, one that brought many a tear. New Zealand's second-to last WWI soldier to die (they're all gone now) was Lt Col Lawrence 'Curly' Blyth. He was actually in the battle at Le Quesnoy, and in his later years he was responsible for the bringing together of the two towns who now share a unique relationaship, Cambridge and Le Quesnoy.
He lived to the age of 105 and passed away four and a half years ago. His son Jackson and daughter Margaret decided that they would lay Curly's ashes at St Andrews, the church with the Le Quesnoy memorial window - a place he came to love.
So, today one of our best known ANZACs was finally laid to rest. here, Jackson and Margaret prepare to place their beloved father's ashes into the small grave.
and then everyone gathered placed a poppy in with Curly
And the plaque was also unveiled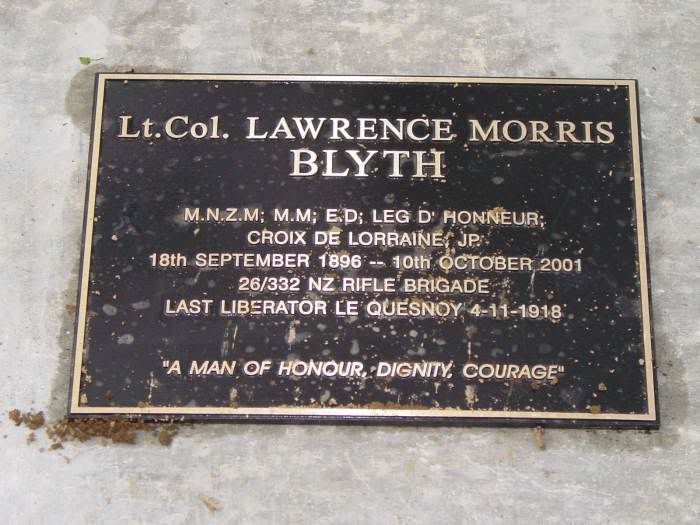 This was a very moving day with much talk of the ANZACs in WWI, and the French Resistance in WWII, not to mention the RNZAF pilots and aircrew who fought to liberate France and Europe.
One of the stunning things for me was when talking with Jack Morris and his family members, they told me something that made me very proud. A book has just been released by the New Zealand Government called The Big Show, in which 13 New Zealanders who fought in the D Day invasion were interviewed by Alison Parr. She's a well known oral historian, and someone i admire very much for her wonderful efforts in recent years in recording the veterans' memories.
However, Jack and his family revealed that not only was he one of the 13 interviewed (I have not yet set eyes on the book but will be getting a copy for sure) but it was MY website's interview with Jack that inspired Alison to include him in the book. Jack's son told me she read it and rang him straight away saying "I
have
to include him in the book". Interestingly before i interviewed Jack, he had not spoken about his wartime events at all, not to anyone! It was me who brought the memories out into the public, and now Alison has gone further and ensured every school and library in the country will now have access to the story, so that's brilliant.
It seems that the publicity surrounding the book and John's involvment was the key thing in the plaque being laid for his rescuers. So, again they attributed that to me "starting the whole thing." I was totally unaware of all this till today and most humbled. I guess it's the ripple effect in motion.
It is great to think that when people stop to view the historic church, which is very popular indeed, many will spot these plaques and hopefully learn a little, or at least pay a few respects to Curly in his final resting place.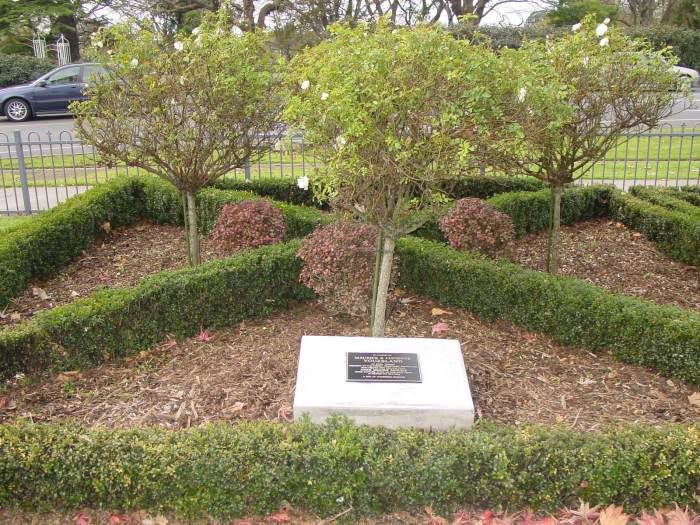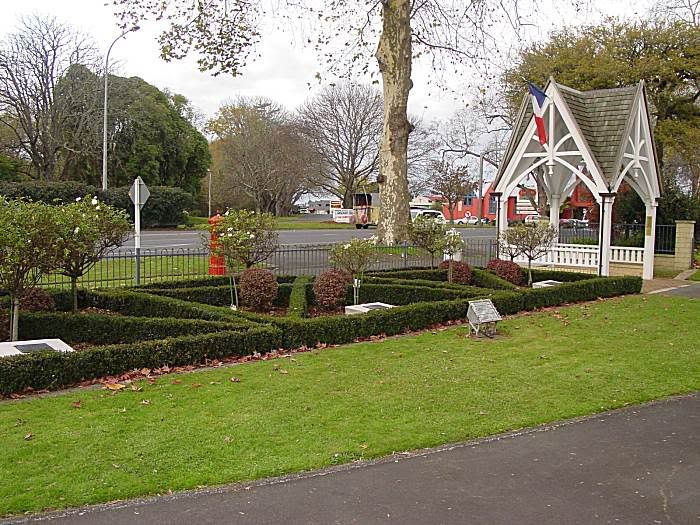 And to close this, here is a photo of John Morroe Morris MBE, or Jack, with all his family. A man who did return, thanks to the heroism of a young couple with two small children in France that put fear behind them and cared more for Jack (and 12 other Allied airmen throughout the war) than their own lives. Heroes, true heroes.
Jack is on the extreme left of shot, in the blue shirt and dark coat. Behind him is his son, John. Jack's wife Pam is in the orange top. In the pink, Jack's sister Grace Ronayne who initially put me onto jack. It was her that convinced him to speak to me and tell his story. Her daughter and grandsons are also there (front and behind). Grace's husband Graeme was an RNZAF P-40 pilot, but is sadly no longer with us.
In the checkered scarf is Jack's other sister Margaret Morris, who also served in the war as a WAAF driver. Jack's brother Bob is on the end. He was the youngest and too young to join up. They had another brother, Trevor, who is deceased and he also served in the RNZAF and was an Air Gunner on Defiants before going to Canada to become a Pilot.