Post by Dave Homewood on Dec 10, 2015 22:02:43 GMT 12
Kaikohe ATC is flying high
9:24 AM Thursday Dec 10, 2015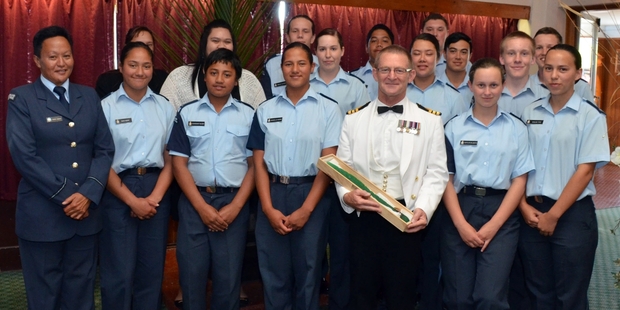 ALL PRESENT AND CORRECT: ATC 25 Squadron Kaikohe with their newly appointed commander, Flying Officer Maria Harris, and Commander Glen Stokes.
Kaikohe's 25 Squadron ATC (Air Training Cadets) has wrapped another year with a double-banger.
The units' newly-appointed commander, Flying Officer Maria Harris, was the instigator of last weekend's formal luncheon at the Kaikohe RSA, which was attended by more than 100 people including representatives of the cadet units in Kaitaia, Kerikeri, Dargaville and Whangarei, and was instrumental in securing Glen Stokes' attendance for one of his last official duties as NZ Cadet Forces' Commandant.
He leaves this role this week.
Commandant Stokes drew a co-relation between children who had been through the cadet ranks, and higher success achieved in other leadership roles, emphasising the crucial part families and communities played in providing units for their young people.
He acknowledged the role of the forces as the umbrella group, but stressed that it was the individuals who volunteered to train as officers, and the whanau and communities who ran the unit, that provided alternative choices and opportunities for young people.
To highlight that point, he invited each cadet's family members to help present new rank slides for those who had been promoted.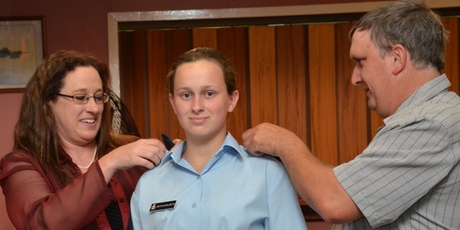 ALLOW US: Sharon and Mike Dalbeth attaching new epaulets on daughter Caithlin's shoulder straps. PICTURE/DEBBIE BEADLE
ATC is open to everyone aged between 13 and 18, and the Kaikohe unit is always looking for new members. Parade nights are every Tuesday during the school terms.
The unit is associated with the RNZAF through the NZ Cadet Forces, but each unit must raise all their own funds, so rely heavily on the support of their whanau and community, and the assistance of other community groups such as the Kaikohe RSA and the Kaikohe Lions Club (which provides the unit's accommodation).
Hot on the heels Saturday's formal luncheon, the unit is now preparing for a major fundraising event to finance next year's activities, in the form of a monster garage sale at its Clifford Street premises, next to the fire station, at 9am on Saturday. Along with table loads of items for sale at rock bottom prices the cadets will set up a barbecue and a cake stall.
A wide range of toys, household items, books, CDs, ornaments, sports equipment, shoes and clothing have been donated, and Flying Officer Harris will be there to explain how the unit works, what the cadets do and how newcomers can join.
Anyone who has anything to donate to the garage sale is invited to contact Maria Harris on (021) 1308-882 or Marion Walsh on (022) 360-1782.
- Northland Age
www.nzherald.co.nz/northland-age/news/article.cfm?c_id=1503402&objectid=11558853