Post by kiwithrottlejockey on Apr 19, 2016 22:42:09 GMT 12
from Fairfax NZ....
The legend of HMS New Zealand — the lucky shipLegend has it, two Maori artefacts protected HMS New Zealand during World War I.By RACHEL THOMAS | 5:00AM - Tuesday, 19 April 2016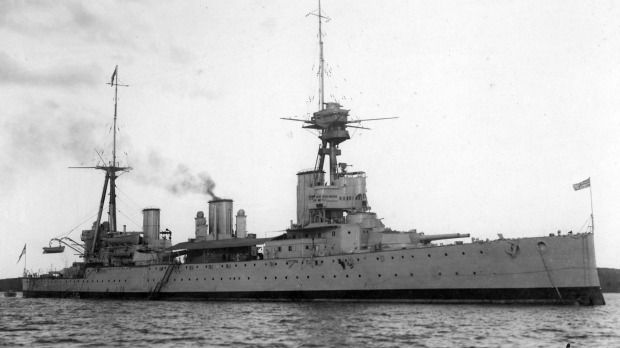 HMS New Zealand, the battle cruiser gifted to Britain by NZ. During a tour of New Zealand in 1913,
a Maori chief gifted a heitiki and piupiu to the ship's captain. — Photo: Wayne Drought/NZPA.
_____________________________________________________________________________________________________________
On the last occasion that HMS New Zealand sighted enemy ships and went to action stations, a seaman was seen to climb a ladder to the bridge and take a
quick look around. "It's alright," he called to his mates below, "he's got them on" – a shout assured them that the captain was wearing the piupiu and tiki.
— writings from Lieutenant Alexander David Boyle, a New Zealander who was aboard the HMS New Zealand.
_____________________________________________________________________________________________________________
N
EW ZEALAND's gift to the British Royal Navy during World War I,
HMS New Zealand
would become known as the lucky ship.
It went through three major battles between 1914 and 1918 and lost none of its crew.
Legend has it a sacred greenstone heitiki and a piupiu (flax skirt), gifted to the ship's captain, protected the vessel and its 800 crew through the war, including the brutal Battle of Jutland, the major clash between the British and German fleets.
Britain won the battle, but lost 14 ships and more than 6,000 crew, while the Germans lost nine ships and had more than 2,500 casualties.
Regardless of whether you believe the legend, there's no denying the ship defied the odds by making it through the battle unscathed, said Sarah Hunter, creative director for
WWI Remembered: A Light and Sound Show 2016
.
"The fact the ship came out of that — not just because it had a taonga on board that made it lucky — it was lucky."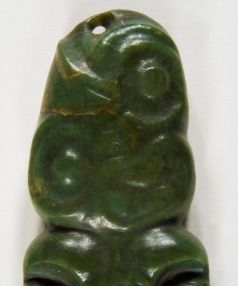 Part of the pounamu heitiki probably
worn by the captain of the HMS New
Zealand during World War I.
— Photo: Canterbury Museum.
Pieces of the story of the
HMS New Zealand
will come to light this week as part of the show, which will see images from New Zealand's war effort projected onto the war memorial at Pukeahu National Park.
The gifts came from a Maori chief, but historians have been unable to confirm which tribe he came from, Hunter said.
"There's a lot of power with a tiki. It can mean life or death."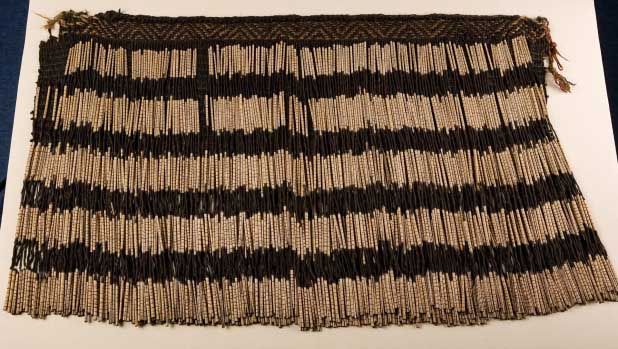 The piupiu gifted by a Maori chief to Captain Lional Halsey of HMS New Zealand during
World War I, which is thought to have helped keep the ship safe during battle.
— Photo: Royal New Zealand Navy Museum.
Written evidence reveals the piupiu was passed to Captain Lionel Halsey by the Southern Maori MP, Taare Rakatauhake (also known as Charles Rere) Parata, on behalf of Ngai Tahu chief, Mana Himiona Te Ataotu in April 1913, while the ship was docked in Wellington.
Other anecdotal evidence, however, has suggested the piupiu came from a Te Arawa chief.
The ship was scrapped in 1922, due to new restrictions to naval fleets, and its guns and silver sent back to New Zealand.
The piupiu now lives at the New Zealand Royal Navy Museum in Auckland. The heitiki is preserved at Canterbury Museum.
BY THE NUMBERS
• Cost of the ship: £1,706,000.
• Crew: 800.
• Top speed: 26 knots (48km/h).
• Armament: eight 12-inch guns, 16 four-inch guns, three-inch anti-aircraft guns, two torpedo tubes, an aircraft.
• Length: 800m.
WWI REMEMBERED: A LIGHT AND SOUND SHOW 2016
• Where: Pukeahu National War Memorial Park, State Highway 1, Te Aro, Wellington.
• What: mixture of photos, graphics, animation and original artwork including work by artist Ngataiharuru Taepa that highlight New Zealand's contribution to the war in 1916-17.
• When: April 21st-24th, 7pm-10pm and April 25th, 6pm-10pm (15-minute loop).
• Admission: free.
www.stuff.co.nz/national/last-post-first-light/79026066