Post by kiwithrottlejockey on Jul 5, 2013 17:33:18 GMT 12
Replica plane on course for lift-offBy ESTHER ASHBY-COVENTRY - The Timaru Herald | 5:00AM - Friday, 05 July 2013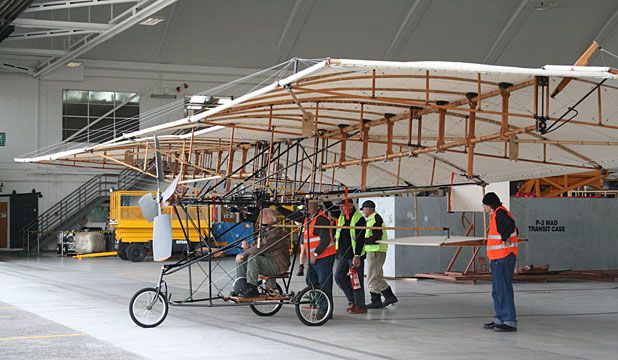 FILMING PROGRESS: Ivan Mudrovcich's aircraft is the subject of documentary.
— WAYNE JOHNSON/Eye On U Productions Ltd.A
REPRODUCTION of South Canterbury inventor Richard Pearse's aircraft of 1903 is raising hopes this one will get off the ground.
Retired Auckland based automotive engineer Ivan Mudrovcich has spent the past nine years recreating the aircraft based on the Pearse patent description and other research.
Pareora part-time engineer Lex Westoby said he thought Mr Mudrovcich was quite ingenious and he expected the flight attempt, planned for October, would be successful.
Mr Westoby spent three years working on a replica engine, based on Pearse's original plans, which was attached to a frame in 2003. But the project was never completed and flight was not attempted.
Mr Westoby said the engine ran well with plenty of thrust and the craft was now at the South Canterbury Aviation Heritage Centre.
He thought whoever piloted Mr Mudrovcich's reproduction would be brave as the technology was from the 1900s and its behaviour once off the ground was unknown.
"You can't use modern-day flying tactics," Mr Westoby said.
Mr Mudrovcich said a retired Air NZ pilot was prepared for the role and safety was a consideration of the planned flight.
Mr Mudrovcich spent a lot of time studying and analysing the language of the era and what was written. Deciphering the patent was one of the biggest challenges.
The first flight attempt last year, to see how much lift it had while on the back of a trailer, broke a wing. The next attempt in about October will be at the Whenuapai Air Force base in Auckland.
Regardless of the outcome, Mr Mudrovcich wants to make public the technical realities and counteract any misinformation.
Since 2008, freelance video cameraman Wayne Johnson has been filming the project for a documentary called
Will It Fly?
which will be released at Rialto cinemas in Auckland and Dunedin.
Mr Johnson said it was possible the documentary would be shown in Timaru in the future.
www.stuff.co.nz/timaru-herald/news/8880927/Replica-plane-on-course-for-lift-off