Post by Peter Lewis on Jan 27, 2008 22:55:56 GMT 12
I have tracked done some information on the Agricola, but I am sure there are more photographs and information out there.
There is not a lot around on the internet on the Agricola, Wikipedia gives only a short summary:
"Constructed of fabric over corrosion proofed steel frame the design featured a large high lift low set monoplane wing, external control cables, fixed tail wheel undercarriage and a somewhat angular fuselage, with an aft cabin that could seat two passengers, a hopper over the centre of the wing which could hold 750 kg of superphosphate in the topdressing role, or 654 litres of spray as a crop duster. The pilot sat forward of the hopper over the wing leading edge, a position which gave a good field of view compared with the American practise of placing the pilot behind the hopper, though this view was somewhat restricted by the extensive canopy joinery and bulky rear decking. The Agricola's handling was generally described favourably, particularly it's slow speed performance and controls, while its rugged and simple construction allowed for easy maintenance and repair. The aircraft was utilitarian rather than attractive; one web site has short-listed the Agricola in a competition for the ugliest aircraft of all time[citation needed]. The type was first flown in 1955. It was out competed in its target market by the PAC Fletcher and attempts to sell the type for Aerial application work in Britain, Australia and Europe met with little success. Only 9 were made before production ceased. Of these ZK-BXO, is the sole survivor. Restored by John Stephenson of Whitianga, it was operated for many years by him as both historic aircraft and personal transport. BXO was sold to the UK in 2005."
There was an initial batch of eight built at the Auster works in Rearsby. All were registered in New Zealand, but only six actually arrived there.
c/n B.101
First flown 8th December 1955 by test pilot Ranald Porteous as G-25-3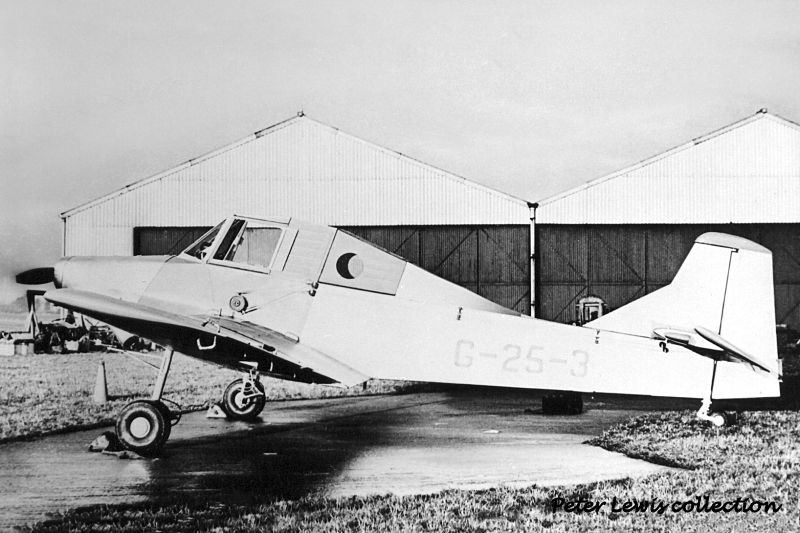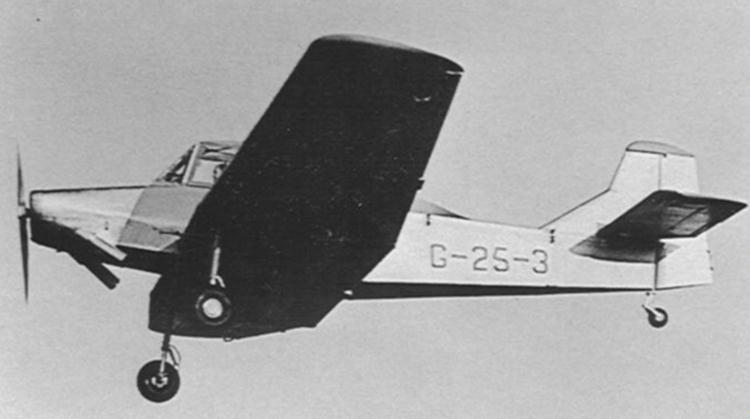 It's allotted British makings of G-ANYG were not used, and it did fly in the UK as ZK-BMI (see clipping below). However, this aircraft never made it to NZ and was dismantled at Rearsby in 1959. It is reported that some parts from this airframe are now with Cliff Baker of Carr Farm, current owner of Agricola G-CBOA/ZK-BXO
c/n B.102
Was sent to the NZ Auster agents, Bristol Aeroplane Co. NZ Ltd., Wellington, for a demonstration tour as ZK-BMJ. Sold to Airlift (NZ) Ltd., Kilbirnie and registered to them in October 1956.
At Rongotai, probably with Airlift: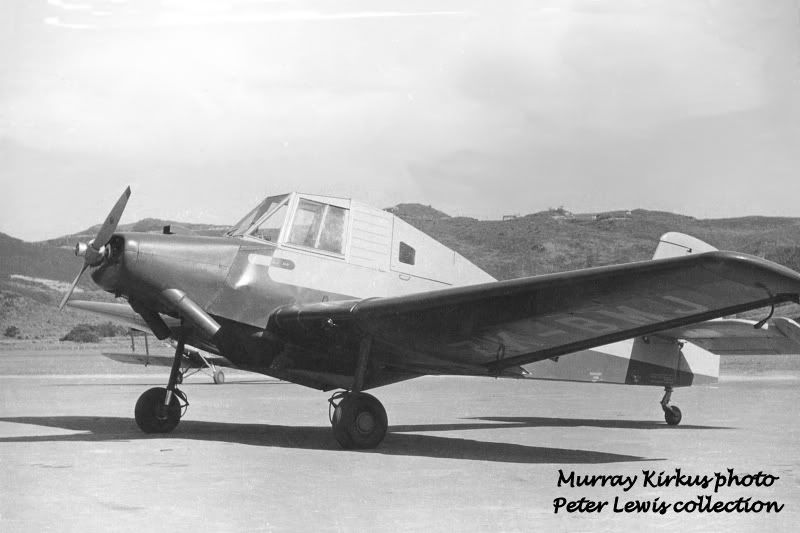 Parked on an airstrip, unknown location:
When this company folded in 1960, Claude Stephenson (their chief pilot) formed a new company, Associated Farmers Aerial Work Ltd. based at Martinborough and BMJ was registered to this new company in August 1960.
ZK-BMJ was hired to Air Contracts Ltd., Masterton later in 1960 until damaged in a crash 8th May 1961 (place?).
Associated Farmers rebuilt the aircraft:
ZK-BMJ in the Associated Farmers hangar at Martinborough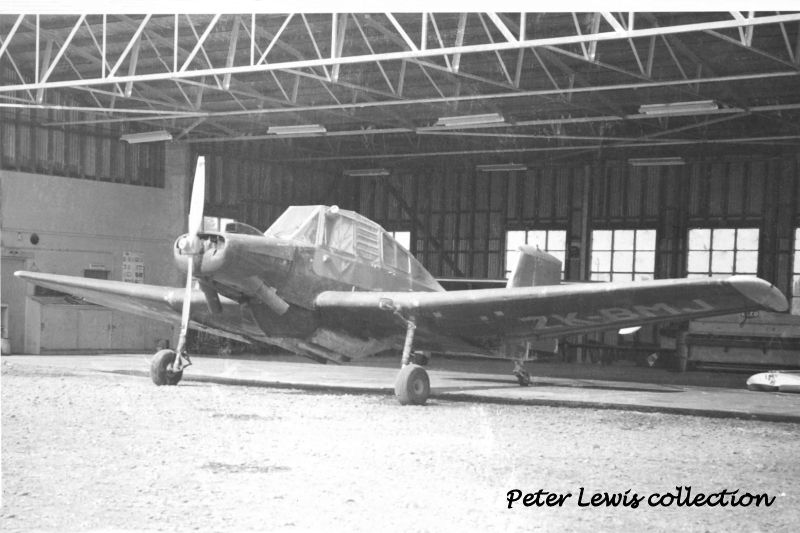 Associated Farmers continued to operate ZK-BMJ until it crashed on landing Wairongomai, near Otaki, 10Dec76.
ZK-BMJ at Masterton 30th June 1976. Colours noted at that time were red and white with green trim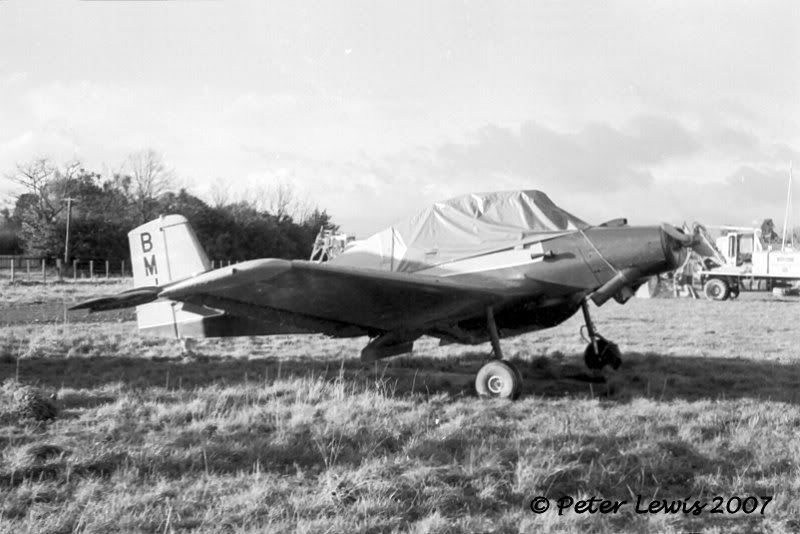 c/n B.103
Followed a similar path, being sold through the Agents to Airlift (NZ) Ltd. as ZK-BMK from May 1957.
ZK-BMK looking like a new aircraft, probably at Woodbourne soon after assembly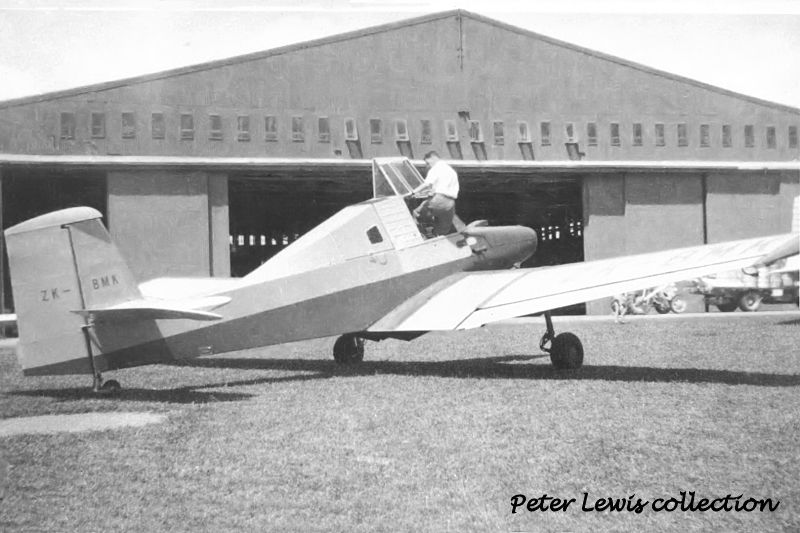 Under Airlift ownership, crashed into Waingawa River, after failed t/off at Hood, Masterton, 11May57.
ZK-BMK at Rongotai May 1957: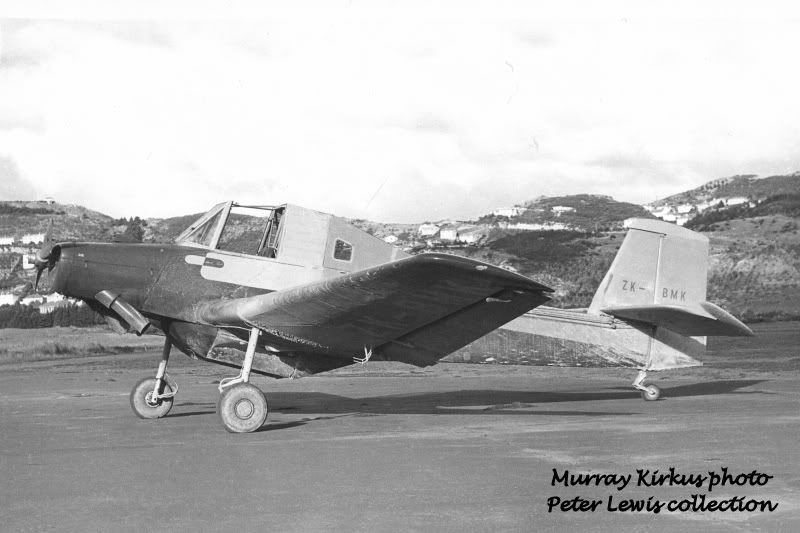 c/n B.104
Imported through the Agents as ZK-BML, went to Rangitikei Air Services Ltd. of Taihape in April 1957. Fitted out as a sprayer. Crashed & DBF near Taihape 22Jan59.
Note the built-in spray rig: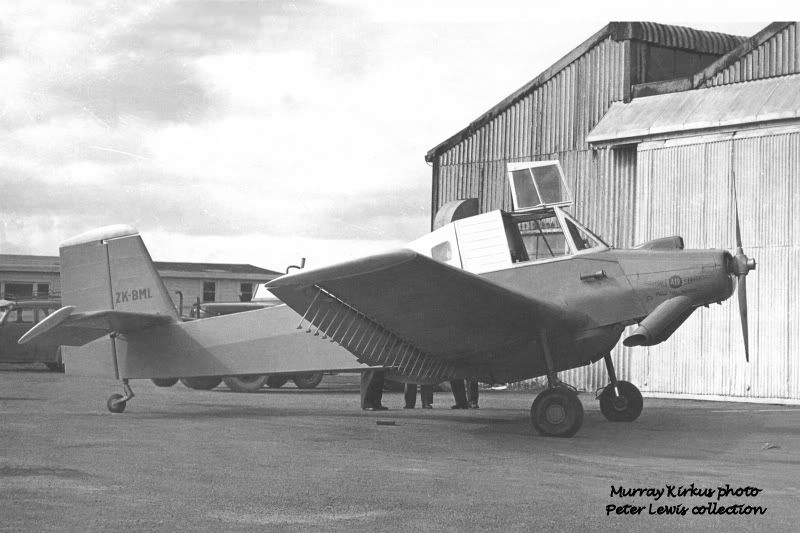 c/n B.105
Imported through the agents as ZK-BMM. Remained unsold, and stored at Blenheim (Woodbourne?) until sold to Associated Farmers Aerial Work in 1960. Hit HT wires & crashed Stoney Creek, Martinborough, 7Jun62, Pilot Claude Stevenson.
ZK-BMM early in its life at Rongotai
Engine out, at Masterton April 1961
The aircraft was then rebuilt with parts from BMK BML and CCV and given a new registration of ZK-CCU 11 June 1965, the date of the first flight. It continued to operate under Associated Farmers ownership until it crashed on t/off from strip at Ohariu Valley, nth of Wellington, 13Feb77.
ZK-CCU operating off a very steep strip at Baring Head on the far side of Wellington Heads: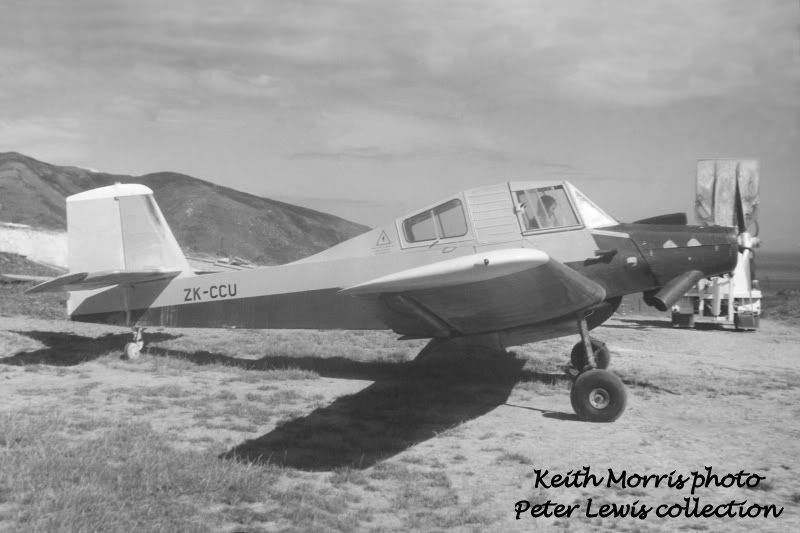 Resting at Masterton, date not recorded:
ZK-CCU at Hamilton in March 1968 for engine work. Colours were noted as yellow upper surfaces, orange lower surfaces and black registration
A few years later, at Martinborough June 1976
c/n B.106
Imported through the agents as ZK-BMN. Remained unsold, and stored at Blenheim (Woodbourne?) until sold to Air Contracts Ltd. in 1961 (replacement for ZK-BMJ?). Passed on to Associated Farmers and registered to them in October 1963. Crashed 5mls SE of Paraparaumu 11Mar65, out of fuel. Pilot M H Lacey.
Under Air Contracts ownership, location looks to be Masterton airfield: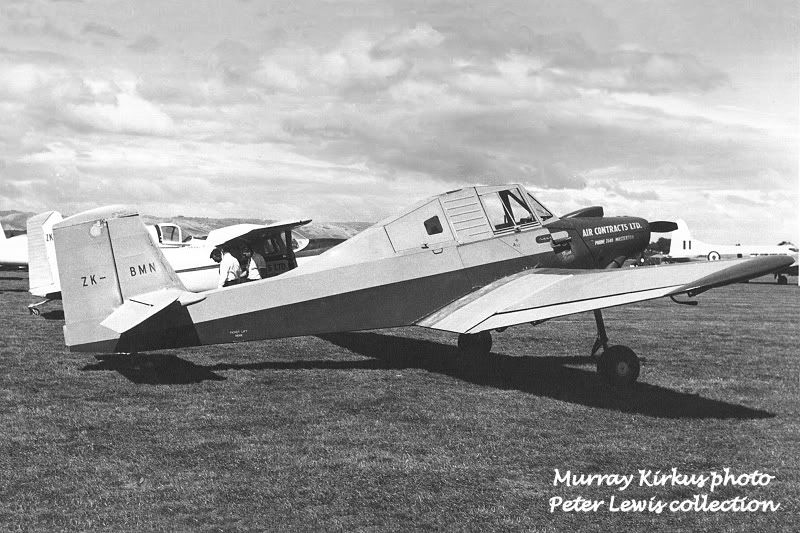 Name on the cowl says 'Fred Myers'
c/n B.107 (later c/n B.118)
Allotted ZK-BMO, but the slow sales of BMM and BMN meant that this aircraft was retained in the UK and became G-APFZ with Aerial Agriculture Ltd. of Lasham with whom it flew about 300hrs.
(ZK-BMO was reallocated to a Beaver).
WFU Rearsby after CofA expiry 22Apr60.
Rebuilt at Rearsby with a new c/n B118 and sold to Air Contracts Ltd., Masterton. First NZ flight at Masterton 8 October 1962 as ZK-CCV. Operated from Masterton until crashed Pongaroa, Masterton, and partially DBF 19Feb63. Pilot Barry Cook.
Operational on a farm strip, date and place unknown: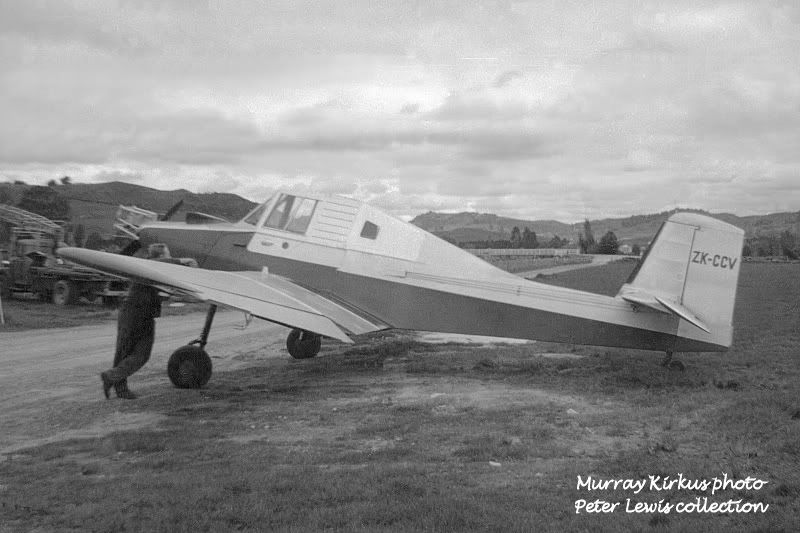 ZK-CCV at what is obviously Whenuapai (Auckland) in January 1963. Looks like it had some engine problems during its short life in New Zealand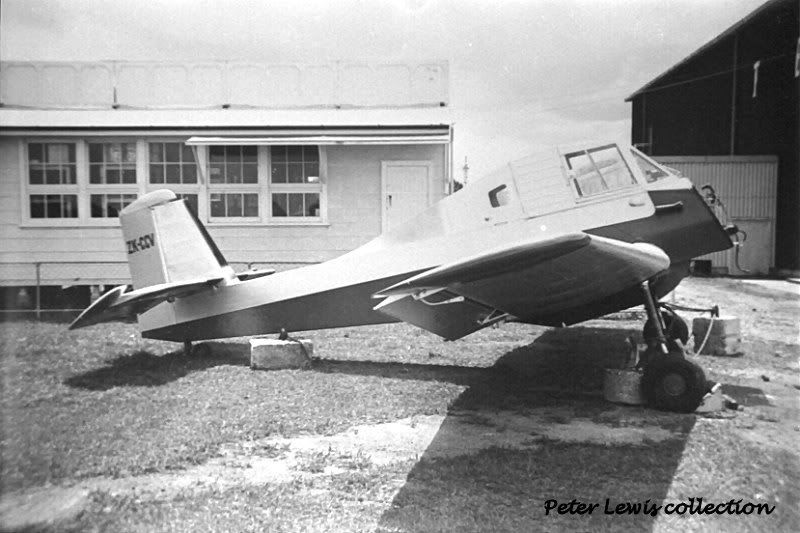 c/n B.108
Allotted ZK-BMP but also remained unsold in the UK. Completed with c/n B.117 and went to British Guiana as VP-GAZ where it crashed 27 June 1959.
VP-GAZ in action as a sprayer. Photo via 'Auster Heritage Group'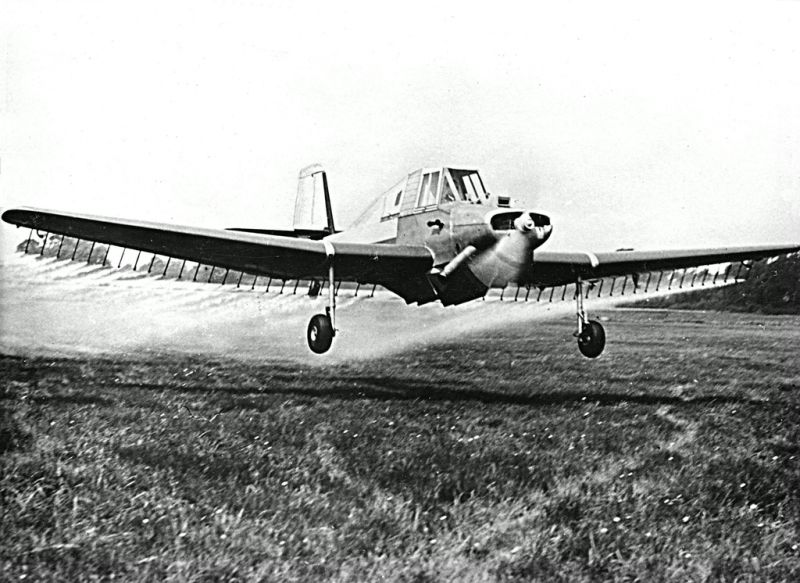 The remains of this aircraft were then returned to the Auster factory. (ZK-BMP was reallocated to a Cessna 180).
c/n AIRP-680
Associated Farmers collected up the remains of ZK-BMN and other crashed aircraft and arranged for Temple Martin to build up another Agricola at Airepair Hastings from these remains. This was given the c/n AIRP-680 and registered to Associated Farmers Aerial Work Ltd. as ZK-BXO on 15th October 1966. This aircraft operated from Martinborough until WFU & stored early 1970s (at Martinborough?).
ZK-BXO operating off a strip at Makara: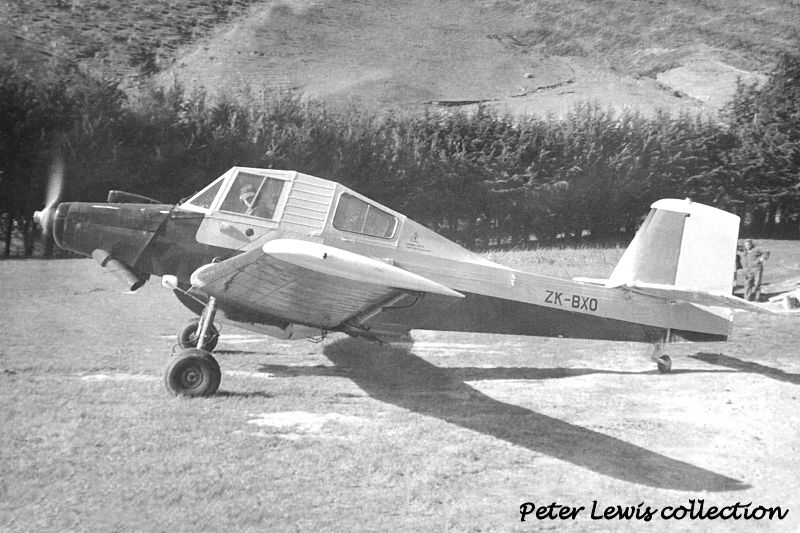 ZK-BXO was restored to airworthy in the early 1980s and passed into the ownership of John Stephenson, a pharmacist, of Whitianga. John operated ZK-BXO as a private aircraft still showing Associated Farmers signage until selling it to new ownership in the UK. She left NZ by ship 9Feb02, and became G-CBOA on 22 April 2002 owned by Cliff Baker, Carr Farm, Newark
ZK-BXO at Whitianga 2000
c/n AF-001R
There was a final sweep around of parts in 1970 and another Agricola was constructed at Martinborough. Allotted the registration ZK-DEU in March 1971 and operated by Associated Farmers Aerial Work Ltd., this aircraft did not last long, being destroyed in a fatal crash at Ruakokoputuna, Martinborough, 7.30am 2Dec71 @ 374hrs. Pilot Brian Court-Patience.
ZK-DEU at the Martinborough base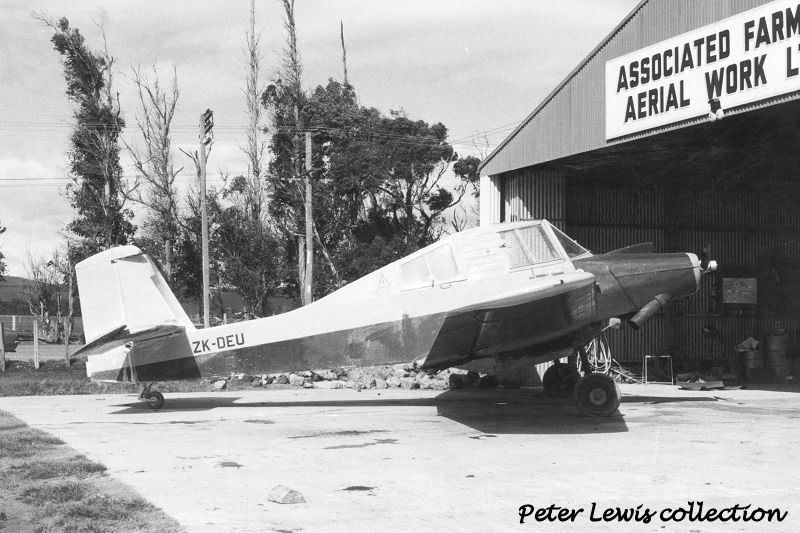 Not a thing of beauty, slow development, a lousy paint job and poor marketing of the end product doomed the Agricola project to eventual failure, but by all accounts they excelled at the job they were designed to do.
Hopefully, this thread will generate more information (and photographs) from those who were involved in or observed the Auster Agricola in action. In particular I am interested in any pics of B.101/ZK-BMI in UK/Europe, B.103/ZK-BMK at Farnborough SBAC show in 1956, and B.107/G-APFZ during its time with Crop Culture (Aerial) Ltd.
Also, does anyone have an update on the current state of ZK-BXO/G-CBOA?
(Acknowledgments to A J Jackson/British Civil Aircraft volumes for some info above).